Studs
Gordon Steel
Arc Productions
Arc, Stockton-on-Tees
(2004)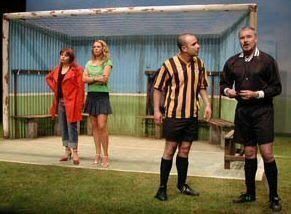 It seems rather odd to describe a play whose third word is "fuck" (a word much used from that moment on) as a sentimental comedy. But that's what Studs is.
It's a play about football. Hence the title, although the sexual meaning isn't inappropriate, given the two preoccupations of the characters. It's about Sunday League football, the home of young wannabes, old has-beens and never-will-bes of all ages. And, in particular, it's about one of those teams (and every Sunday League has them) which has never won anything - ever.
It's also about relationships, not just sexual relationships (although they are very important, precipitating the play's crisis), but between the players (Mac, played by Christopher Connel, and Tommo, played by Graham Martin), the team's captain and driving force (Robert Hudson's Ronnie) and the two players' girlfriends: Mandy (Laura Lonsdale) and Kylie (Danielle Williams).
The characters are somewhat stereotypical: Mac is the hard man with a soft interior; Tommo the sensitive one, lacking in self-confidence but with unexpected steel inside; Robert the man for whom football - and, in particular, the team - is the most imporant thing in his life; Mandy the hard-faced sex-mad bitch with her own interior softness; and Kylie the thick bimbo who proves to have more strength of character than anyone would have expected - anyone, that is, who is not used to plays of this nature!
Originally premiered by Hull Truck and written by local Teesside man Gordon Steel (who also directs), it is suffused by a love of "the beautiful game" (I never could see that myself, but there you go!) and is characterised by some very good one-liners, particularly in the first half, and sharply observed dialogue. There were one or two bits which were obviously thrown in for laughs and don't advance the play at all: a dominatrix scene, for example, at the end of which Tommo is mistaken by Ronnie as being a be-capped, studded gay in the Village People mould, simply gets its laughs and then Ronnie's homophobic reaction to Tommo is quietly forgotten about.
The sentimentality of the piece reaches its climax at the end as Ronnie, whose father had founded the team, straightening a twisted coat peg, looks sadly round the changing room, which is to be demolished the next day by the council, with the strains of Nessun Dorma swelling in the background.
It could have been dire, but Robert Hudson underplayed it just enough to avoid sickliness. In fact, the whole cast steered that difficult course, reaching the edge of sentimentality but never crossing the line, whilst making the stereotypes believable. In short, excellent performances from all the cast, which ensured that the play's shortcomings (not that there were that many, I have to add) were not obvious and that the audience went away having had a thoroughly enjoyable evening's entertainment.
"Studs" runs at Arc until 12th June
Reviewer: Peter Lathan