Styx
Max Barton
Second Body
Assembly George Square Gardens
–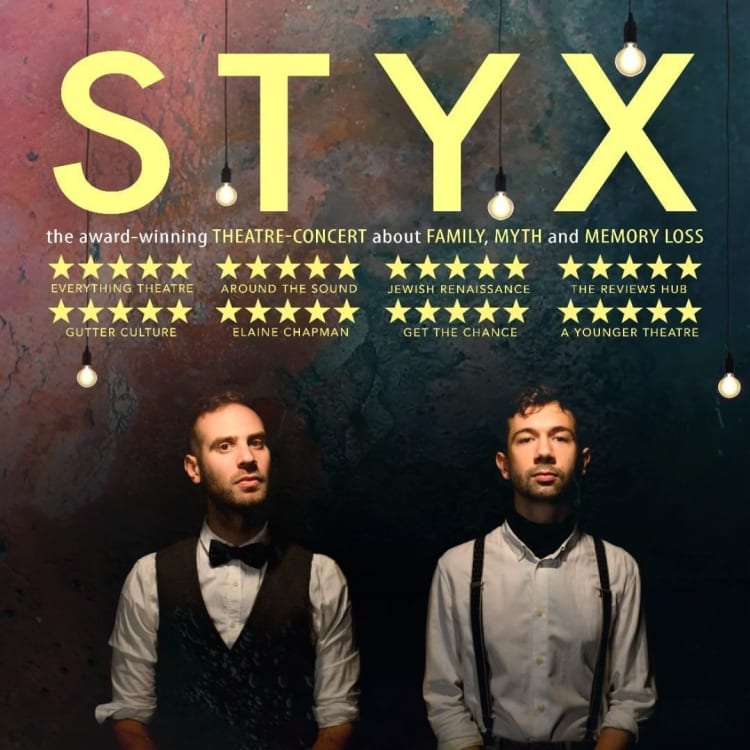 What is memory, and who are we if we cannot remember ourselves? These are some of the questions grappled with, during Styx, the whimsical and unusual piece from Second Body, a partly spoken, semi-sung delve into the history of writer-director Max Barton's grandparents and the long-forgotten London club they used to own, all of which is told in pieces, with narration interspersed with real recordings of interviews with Barton's Alzheimer's afflicted Grandmother.
Key to the events and the stories the show leads us down are the connections to the Greek myth of Orpheus and Euridice and their fabled failed escape from the Underworld. It's a fitting motif, and the play plumbs its depths for every penny throughout the captivating journey through light and shadow, with flickering, buzzing lightbulbs and the scratch of old vinyl records soaking through the atmosphere. Tied to this is a fascinating exploration of memory, dashed with snippets of neuroscience, touching on the complexities of how our brains store and reconjure our past to us.
Considering the very real and notable hurdles that the present situation has thrown at this production, it's a testament to the artistry of Second Body that Styx still delivers in spades. Travel restrictions have meant the originally eight-strong musical group has been reduced to two, and much of the wider orchestration of the music has been recorded or sampled for live mixing onstage.
This has a mixed toll on some aspects of the performance, as, curiously, the staging seems to still be spaced out for the complete troupe, and yet, with only Barton and composer Jethro Cooke onstage, it gives the piece a cluttered feeling, in keeping with the fragmentary nature of the narrative. But the reduced orchestration has meant by necessity the re-arrangement of some of the pieces, and while most still work, a few feel a little thin, particularly when fighting against the understandable bleed-through of sound from competing musical shows in George Square Gardens.
Despite these few small issues, the piece is still a deliciously warm and touching tribute to music, to memory and to those we love, explored with humour and conviviality, and richly fastened in song.
Reviewer: Graeme Strachan