Such Usage, or Dibdin versus Garrick
David Timson
Presented by the Society for Theatre Research
The Art Workers Guild
(2007)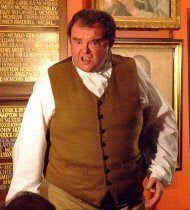 This one-off entertainment took the form of a solo show by David Timson as the eighteenth century performer, composer, dramatist and sometime theatre manager Charles Dibdin. Costumed and with minimal props, he was presented as writing his autobiography (published in 1803) and thereby recalling his years of working in the theatre with people such as Garrick at Drury Lane and Harris at Covent Garden. It was an appropriate form of entertainment for Dibdin himself used to tour his own one-man show which had great success in the provinces and for a time in London.
Timson was accompanied at the piano (a reproduction early pianoforte to give the appropriate period sound) by Jeremy Barlow, who also made the occasional corrective interjection or provided supplementary information in the guise of an academic lecturer. Indeed, the show was this year's Maggie Collin's Lecture, the Christmastide event in the Society for Theatre Research's monthly lecture series, named for the late Margaret Collins who used to run their lectures and instigated the December lecture as a more festive occasion with a performance element whenever possible. (www.str.org.uk)
As well as recounting his key theatre work, including being taught the role of Lord Ogleby in The Clandestine Marriage by its creator David Garrick, Mr Timson's Dibdin gave us an impersonation of Garrick in performance and described that famous actor's ego-centric Shakespeare Bicentenary festival at Stratford and his own somewhat jaundiced view of the great actor and their stormy relationship which he felt had hurt his own career. 'Had I been capable of that creeping adulation without which no man can arrive to a responsible position in the theatre,' he informed us, 'I might certainly now have been in possession of a decent appointment.'
He also talked of the inspiration for some of his own songs, of which a fine selection were sung, not just those sea songs for which he is best remembered.
Timson gave a strong performance, overcoming the challenge of a venue not designed for theatrical usage. His audience clearly found this instructive entertainment to their taste and were left wishing there were more. Indeed, this team do present other Dibdin material in several formats, some of greater length, about which details are available on the internet.
13th December only (ended)
Reviewer: Howard Loxton