Sucking Eggs
Steve Byron
Esther Fearn & Ali Pritchard for Alphabetti in partnership with Newcastle University
Alphabetti Theatre, Newcastle
–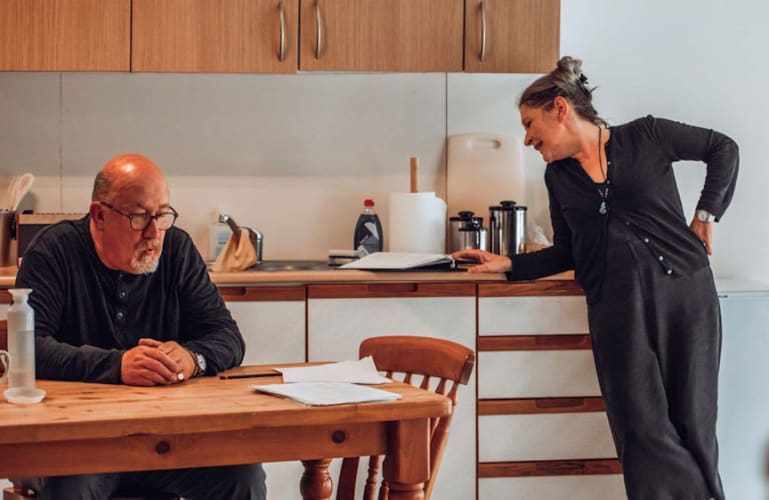 Peter (Steve Hawksby), who is about 70, looks after his almost bedridden mother, the 90-year old Rita, who in her youth and for most of her life was a CND activist and protester but whom we never see and only hear when she thumps on the floor.
As the play opens, he's busy preparing mam's breakfast, shouting up the stairs to find out what she wants, complaining on the phone about the late delivery of the morning paper and chatting to Colin, the budgie, whose cage is just offstage.
Then his sister, 64-year-old Maggie (Jacqueline Phillips), married with grown-up kids and a retired husband who is obsessed with taking part in historical re-enactments (and polishing his swords), arrives. She's been out all night with a bunch of students and has dropped in on her way home for her breakfast (which she's brought with her), a Pot Noodle made with vodka.
A classic scenario. A conflict of the "I do all the work and you gallivant" kind waiting to happen. Cue vicious in-fighting, sibling against sibling.
Indeed, the publicity calls it a "kitchen sink drama" but it's nothing of the sort—or, at least not in the normal 1950s / 60s sense. A Taste of Honey it certainly isn't!
But I don't want to spoil your enjoyment by giving too much away if you go to see it (and you should!). Let's just say that it is far more positive and, to risk descending into what has become almost a cliché, life-affirming than would seem possible given the situation we are initially presented with.
Between them, director Karen Traynor and Hawksby and Phillips find and bring to life all the subtleties of Byron's writing, the love which binds together these two unlikely siblings and their mother—and even, I would suggest, Maggie's (I suspect) long-suffering husband.
This is the sixth piece Steve Byron has written for Alphabetti and he just keeps getting better.
Sucking Eggs can be seen live at Alphabetti or online where it is streamed at 7:30 every evening. Tickets are Pay What You Feel. See the link above for details.
Reviewer: Peter Lathan