Sudden Collapses in Public Places
Poems by Julia Darling, set to music by David Scott and Neil Blenkinsop and presented as a song cycle
Presented by Live Theatre
The Sage, Gateshead
(2006)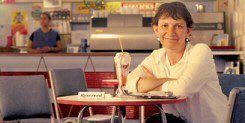 I first reviewed this piece in 2004 and began by saying that author Julia Darling was suffering from breast cancer. Since then she has died from that cancer and the piece has acquired an added poignancy as a result. Although a playwright and novelist, she was first and foremost a poet. She spent some time as poet in residence at a Newcastle hospital where she worked with patients to express their feelings through poetry, whilst at the same time documenting the progress of her own condition in her own writing. It is a series of these poems (more have been added for this revival) which Dave Scott and Neil Blenkinsop have set to music.
There is the same musical line-up - piano, guitar, trumpet, cello, double bass and drums - and it is performed by the same actress/singer, Zoë Lambert. What has changed is the space: instead of the intimacy of Live Theatre, we have the slightly distancing effect of Hall 2 at the Sage. Although it is a small venue (it's known as the small hall) and is itself quite intimate, it has a totally different atmosphere to that of Live's auditorium, being rather more formal.
The effect of the change of venue is to lessen, to some extent, the emotional impact of the piece. The power of the words, of course, is still there and the music remains, too, as powerful as ever, but somehow the ambience made it more of a piece of music than of music theatre.
"Sudden Collapses" is at the Sage until 28th September.
Reviewer: Peter Lathan