Suffragette
Cicely Hamilton, Christopher St John, Christopher Moore, Lizi Patch, Allison Davies, Arabella Arnott
Coracle in association with Alphabetti Theatre
Alphabetti Theatre, Newcastle
–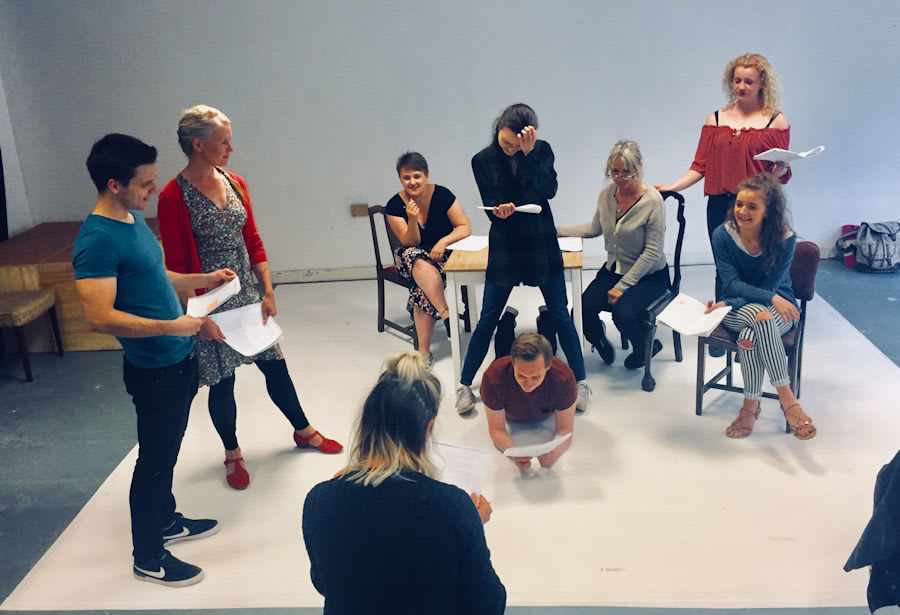 Suffragette is a collection of five plays inspired by the Suffragette movement. One was written in 1909; the rest are new, one from Coracle member Arabella Arnott and three are the result of an appeal from the producers for short plays inspired by any aspect of the movement, which brought in 40 submissions from around the world.
The modern plays are all directed by Coracle Artistic Director Matt Jamie.
How the Vote Was Won
By Cicely Hamilton and Christopher St John
(A staged reading directed by Rachael Walsh and performed by the entire Suffragette company)
According to this play, the votes for women campaign was won in 1909 because women went on strike. Not in the Lysistrata sense (!), but, following the government reasoning that women don't need the vote because they are all "looked after by their male relatives," they all—from housemaids to writers, from cooks to shop owners—left their jobs and went to stay with (and be supported by) their nearest male relative.
We see the effect on clerk Horace Cole, earning less than £4 a week, when, with housemaid and cook having left, he finds himself being expected to support not just his wife, but his sister and various cousins of various degrees of removal.
It's gentle satire (but all the more effective for that) and watching the deflation (and consequent conversion) of the smug male delights not just 21st century women but 21st century men too. Rachael Walsh keeps the pace going at a good lick from the start and, as each blow strikes, Horace Cole wilts just that little bit more until he is lying on the floor underneath the table until eventually he rises, a vocal and enthusiastic supporter of the cause.
It's a little known piece, but it's a little gem.
Banter
By Christopher Moore
A brother and sister fall out over a bit of lads' banter on WhatsApp, banter about two of the brother's friends having sex with one girl at the same time. He accepts it; she takes the opposing view.
It's set in Northern Ireland so there is the added complication of what happens if the girl gets pregnant. She can go to England, he says. It's not that easy though, as she points out.
There's a subtext here which he doesn't get but the audience does. And we are led to expect a dénouement which doesn't happen.
This should have been such a powerful piece of theatre but it's too wordy and the words are without passion. The brother is almost dismissive: this sort of thing happens. So what? It's the male attitude and Daniel Watson wears it well.
But the sister is reasoned, her arguments thought through. It's as if the writer has assembled all the arguments he can find and put them into her mouth but the effect is that her words and the subtext don't hang together because the words are not coming from the heart but from the brain. It is "telling" rather than "showing".
Lucy Curry does the best she can with what she is given; it is her physicality which makes us empathise, but that physicality is at odds with the curiously passionless words.
There's an excellent play here trying to get out. To enable that to happen, Moore needs to revisit the sister and find the complex of emotions which she must be feeling.
An Accident of Birth
By Lizi Patch
What a clever idea! Two foetuses—twins, a boy and a girl—talk to each other in the womb, learning what it is to be male and female, as well as the complexity of the relationships between the two, from what they overhear.
They're naïve—of course!—and that naïveté shines an unexpected and very amusing spotlight on the life of their parents and on gender in general.
And there's amusement, too, in the events of their day. At six o'clock, they cry "yard arm," for the sun is over the yard arm and they are showered with red wine or Guinness. Their mother's not supposed to drink in pregnancy, they know that—but they don't think it's a bad thing!
Curled up in their womb, Adam Jordan Donaldson and Jude Nelson make wonderfully amusing foetuses and, when the moment of birth comes, he's not sure it's such a good thing: the idea of not being able to communicate for almost three years does not appeal!
A clever, gentle and off-the-wall approach to the topic which not only entertains (and it is very funny) but also gives us a totally different and thought-provoking perspective.
Women and Girls
By Allison Davies
The second half starts with an unflinching examination of sexual relationships and their associated emotions. Using language which is rigorous, tough and demanding on the audience, Allison Davies explores the darkness inherent in many sexual encounters.
Her cast—Arabella Arnott (the Woman) and Brogan Gilbert (the Girl)—rise to the challenge of the piece and, in fact, meet it head on.
Much of the play is direct addressing of the audience which requires great skill on the part of both writer and actor to pull off. And they do—and they bring home very clearly the words of the Woman: "enough is enough is enough is enough."
Someone Had to Do Something
By Arabella Arnott
In the final play of the evening, Arabella Arnott swaps acting for writing and gives us a typical domestic conflict. Not between husband and wife or between male and female, but between daughter and mother.
The daughter (Jackie Edwards) is revising for her GCSE exams and has made an awful mess of the room with crumpled up paper scattered everywhere. She can't even do the simplest of domestic tasks, starting the dishwasher or even just washing a cup.
In other words, she's a typical 16-year-old!
Mother (Zoë Lambert) is left to do all that, even though she has her own demanding job at which she is successful. But can she get that across to her daughter? Of course not.
So just how much has changed in terms of equality?
"In the true married relationship, the independence of husband and wife will be equal, their dependence mutual, and their obligations reciprocal," said Lucretia Mott 100 years ago.
Er… no. Not happened.
Five interesting plays looking at the subject of gender equality from different points of view, written by a mixture of seasoned and new writers and performed by a group of eight actors, some very experienced and some very new to the business, under the directorial hand of Matt Jamie who runs a tight ship and gets to the heart of each play.
An entertaining and thought-provocactive evening of theatre—and it's Pay What You Feel so it's not going to break the bank!
Reviewer: Peter Lathan