Suggs: My Life Story
Graham McPherson & Toby Follett
Charter Theatre, Preston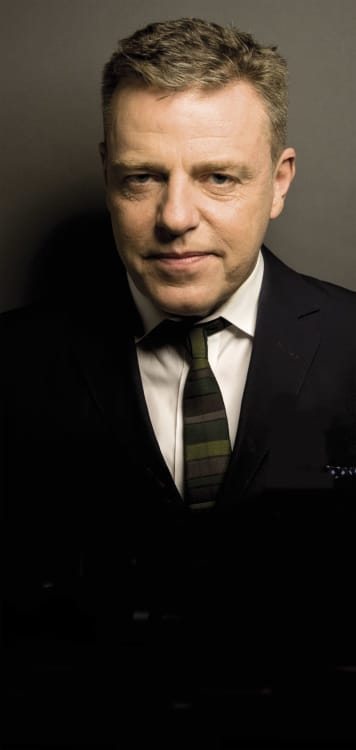 How appropriate Graham McPherson should have had his 50thbirthday bash in London's Victorian music hall Wiltons.
There always was a rich, Vaudevillian tradition and energy about Madness the pop band he fronted, better known then—and now—as lead singer Suggs.
Having reached a dangerous age though, it naturally makes a man more reflective. Though not many then get the opportunity to take their introspection on the road for a 50-date, one-man-and-a-pianist tour, subtitled My Life Story, In Words and Music.
Even fewer could turn it into an hilarious and hugely-entertaining piece of theatre.
Looking even more of a music hall troubadour, in a sharp, green-plaid suit, here he was nervelessly channelling some of the great masters of monologue from an earlier age.
He's still a street-savvy North London lad with a sharp turn-of-phrase, and with the help of co-writer Toby Follett, and stage director Owen Lewis, it all becomes a cleverly-paced mix of anecdotes, songs—supported by Deano Mumford on piano and guitar—and just a little of TV's personal odyssey show Who Do You Think You Are?.
For Suggs never knew his father, and at 50 set out to trace his whereabouts.
He re-creates that quest, along with a lot of other life stories, pacing the stage between sharply-executed lighting cues, engaging in conversation with an empty chair, in the style of a seasoned actor.
Near his story's climax he even manages a mad impression of Tommy Copper, or a much-less flattering 'tribute' to Liam Gallagher that would suggest he and Suggs are unlikely to be collaborating on an album in the near future.
Naturally enough, there's to be a Suggs autobiography released later this year, but in the meantime his story ends here in an unashamedly sentimental vein that can even prompt a lump in the throat as he sings "It Must Be Love".
It must be the same affection that earns him a rousing ovation from a near full house.
Reviewer: David Upton