Suicide Brunette and The Native
Gary Mitchell and Christopher Hanvey
Underground Collective
Old Red Lion
(2010)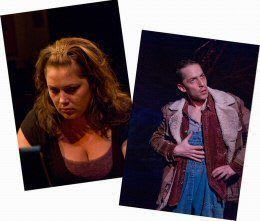 As the New Red Lion stretches its claws just around the corner in City Road, its more mature sibling The Old Red Lion is still ruling the pride in St John Street with its latest double bill of monologues.
The first of the two pieces, The Native, takes its audience on a journey to Arkansas. Marshall is an awkward boy with a troubled past and inner demons. When his 67 year old Grandfather invites him to stay, there is an ulterior motive at play and a patriarchal bonding session is most definitely not on the cards. Marshall finds himself caught up in a terrible deed, one in which he must battle with his own conscience; should he obey his grandfather or stand up for himself?
As Marshall, Christopher Hanvey completely embodies the troubled youth, as well as effortlessly portraying his aging Grandfather. With a slight change in posture and by modifying his pitch appropriately a new character is summoned in an instant. His understanding of the characters is much helped by the fact that they were created by his own fair hand and this means that Marshall and his Grandfather have a wonderful sense of depth as Hanvey knows them better than anyone else.
Written by Gary Mitchell, Suicide Brunette is a quasi-comic monologue with dark undertones. Rather than possessing a driving narrative, Suicide Brunette is more a character study of one woman and her penchant for live-stream internet blogging.
At the beginning of the piece Alex proclaims that she is planning to kill herself live on the internet and asks viewers to vote on the best way to do it. As the monologue progresses and the constant sipping of Stella Artois takes its toll, her guard is let down and many beans are spilled. For Alex, internet blogging is a form of therapy and the audience soon learn why she is as she is.
As Alex, Jessica Hrabowsky does well to show her character's defensive and defenceless side in a piece which can boast the ultimate cliff hanger: will she/won't she? Suicide Brunette also has comic flourishes and Hrabowsky delivers these well as Alex rattles on about the police, books, the education system, stereotyping, religion, faith and love.
Although Suicide Brunette lacks the narrative drive of The Native and is not as strong theatrically, it does pose a number of interesting questions about society today. With so many people choosing to share their lives with complete strangers over the internet, could we one day see such an event occur? Is there an armchair audience out there waiting for such a disturbing voyeuristic experience? It would be most interesting, were the production to be streamed through the onstage webcam, to see what reaction the piece received from an online community. Would people, as in the famous case of The War of the Worlds, miss the fact that it was a piece of theatre? Would anyone care? How would they respond to Alex's online polls? This would take the piece and indeed theatre to another level and provide a sense of interactivity that the National Theatre's NT Live initiative cannot.
Suicide Brunette and The Native prove that the monologue can be an interesting and thought-provoking dramatic medium. Only with good direction can they be truly successful, and Heather Davies does a wonderful job with her subtle touches in making these people's personal stories come to life.
Playing until 30th October 2010.
Reviewer: Simon Sladen