The Suitcase Kid
Jacqueline Wilson, adapted and directed by Vicky Ireland
Orange Tree Thetare, Richmond
(2007)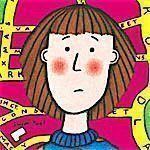 Last March, when best-selling childrens' author Jacqueline Wilson published her childhood memoirs, Jacky Daydream, it was fascinating to discover that the troubles and tough choices faced by her young heroines owe much to her own early experiences, including an ongoing rift between her parents that eventually ended in divorce.
At least her fictional 'suitcase kid' has parents who are on speaking terms. The snag is that they're both making long-term relationships with other partners, which leaves ten-year old Andrea with the difficult choice of living either with Dad or with Mum.
But after digging her heels in and clutching her toy rabbit Radish for comfort, she ends up shuttling between the two on a week-about basis, living out of a suitcase as she lugs her toothbrush and school things between the two homes of her divorced parents.
Worse she must now must cope with bullying and rivalry not from a single sibling but four new stepbrothers and sisters — with maybe another on the way.
This is the fifth Wilson novel that Vicky Ireland has adapted for the stage, and despite the continuing popularity of the book, first published 15 years ago, perhaps the least rewarding dramatically.
The book-cover illustration and poster by Nick Sharratt tell all. In place of Wilson's usually cheeky protagonist with a spunky outlook on life, Andy embraces her troubles, finding solace only in a secret garden with a gnarled old mulbery tree watched over by a kind elderly lady.
Sarah-Lee Dicks plays Andy as a doleful creature of sorrows and unhappiness, surrounded by two families doing their best to live life to the full, while she hates her new stepfather for being a hairy, brutish builder (Henry Everett), and finds even less to like in her ditzy, good-hearted stepmother (Holli Hoffman), a survivor of the Flower People, now heavily pregnant.
She spends every other week sharing a bedroom with Katie (Kerry Gooderson). But Katie has worse problems than Andy, watching television into the wee small hours because she is scared witless of dying in her sleep; while Mostyn James as friendly stepbrother Graham is as nice as pie, even making a model boat for Radish to sail in.
Ireland has brought her customary inventiveness to the staging using bunraku-style puppets to represent the younger kids and ingenious sideways leaps into snowscapes, jungle drums and a blobby white baby as a ghostly threatening figure — plus a dream wedding party for Radish. And there are some touching moments including a subtle, beautifully observed cameo by Gooderson as the gentle oldster emerging from her cottage.
But this 70-minute production, played without an interval, is also subject to restless shunting in and out of furniture and props, not to mention a realistic bathroom set-up designed to give literal support to a single weak joke involving shaving foam.
At the Orange Tree, with staging in-the-round, it's easy to check out audience reaction and I would judge that the younger playgoers were gripped for maybe 80 per cent of the time. But my own honest, if hypercritical adult reaction was that I would rather have read the book.
This Watershed production also tours to:
Stephen Joseph Theatre, Scarborough 10-14 October
New Vic Theatre, Newcastle under Lyme 17-20 October
The Helix, Dublin 24-28 October
Minerva Theatre,Chichester 7-10 November
Liverpool Playhouse 14-17 November
Warwick Arts Centre, Coventry 24 November-30 December
Reviewer: John Thaxter