Summer Holiday: The Musical
Michael Gyngell and Mark Haddigan, based on the screenplay by Ronald Cass and Peter Myles
Summer Holiday Theatre Ltd
Grand Opera House, York
–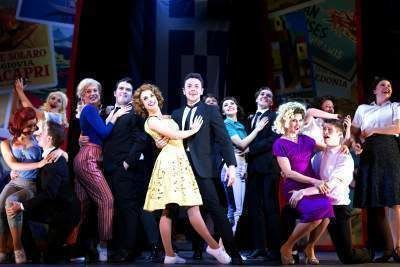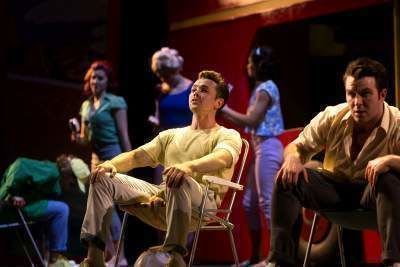 Unless you witnessed it first hand in the 'sixties, it's easy to forget how phenomenally popular Cliff Richard was back then. With his slicked-back hair and cherubic pout, he was very much Britain's answer to Elvis Presley. Perhaps even more surprisingly, Cliff Richard—whom we now think of (erroneously) as a jumper-wearing teetotaller—was widely regarded as a counter-cultural figure, corrupting the minds of the young with his pop songs.
I should lay my cards on the table now: I've never been a fan of Cliff Richard. His crimes against music are too numerous to mention here, but I probably speak for most people when I wish that "Millennium Prayer"—an unholy mash-up of the Lord's Prayer and "Auld Lang Syne"—hadn't happened. That being said, I went into this new production of Summer Holiday with an open mind.
Summer Holiday was Cliff Richard's most successful film and its soundtrack spawned four number one singles. Like the film, the musical centres on a young bus mechanic, Don (Ray Quinn), who persuades his friends—Steve (Billy Roberts), Edwin (Joe Goldie) and Cyril (Rory Maguire)—to travel across Europe on a double-decker bus.
En route to Athens, the four young men come across three stranded young women—Mimsie (Gabby Antrobus), Alma (Alice Baker) and Angie (Laura Marie Benson)—who perform in a girl group. In a Shakespeare-inspired subplot, they also bump into Barbara (Sophie Matthew), a runaway singer dressed as a boy, who wishes to escape the clutches of her overbearing mother, Stella (Taryn Sudding).
I didn't hate Summer Holiday, but it's certainly a mixed bag. The writers, Michael Gyngell and Mark Haddigan, do a solid job of recreating the innocence of the film, but the script is noticeably lacking in good jokes. Also, the performers are given very little material to work with. Taryn Sudding's energised performance as the mother from hell yields few laughs, and Bobby Crush flounders for most of the production as her obsequious lackey.
Technological problems meant that the performers weren't always audible early on in the production, and I wish that set designer Steve Howell had done more to convey the dreary English landscape from which Don and his buddies long to escape.
However, the production has some redeeming qualities. Although his performance is rather two-dimensional, Ray Quinn sings well in the leading role and has obvious star charisma. The choreography by director Racky Plews is often impressive, and the performers dance with great energy and verve.
The most successful aspect of the show, however, is the music itself. Although I'm far from being a born-again Cliff fan, I must admit that his songs work well on the stage, and the writers do a good job of plundering his back catalogue for other tunes. The title song has undeniable melodic charm, as do "Bachelor Boy", "In the Country" and "The Young Ones". I even enjoyed "Living Doll", dodgy lyrics notwithstanding.
Summer Holiday was not my cup of tea, but then I'm not the target audience. Most of the audience thoroughly enjoyed the show and sang along to Cliff's songs with great enthusiasm.
Reviewer: James Ballands