Summer Holiday
Adapted by Michael Gyngell & Mark Haddigan from the screenplay by Ronald Cast & Peter Myers
Octagon Theatre
Octagon Theatre
–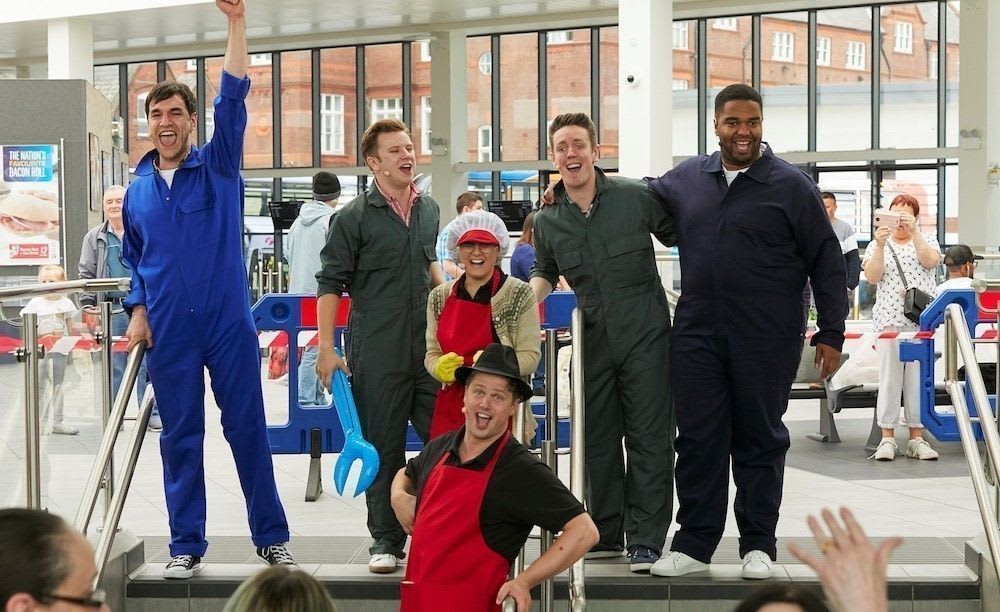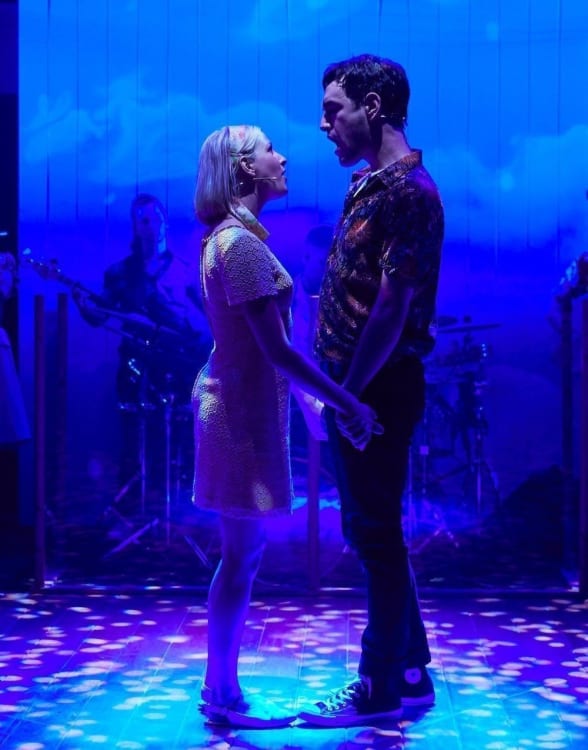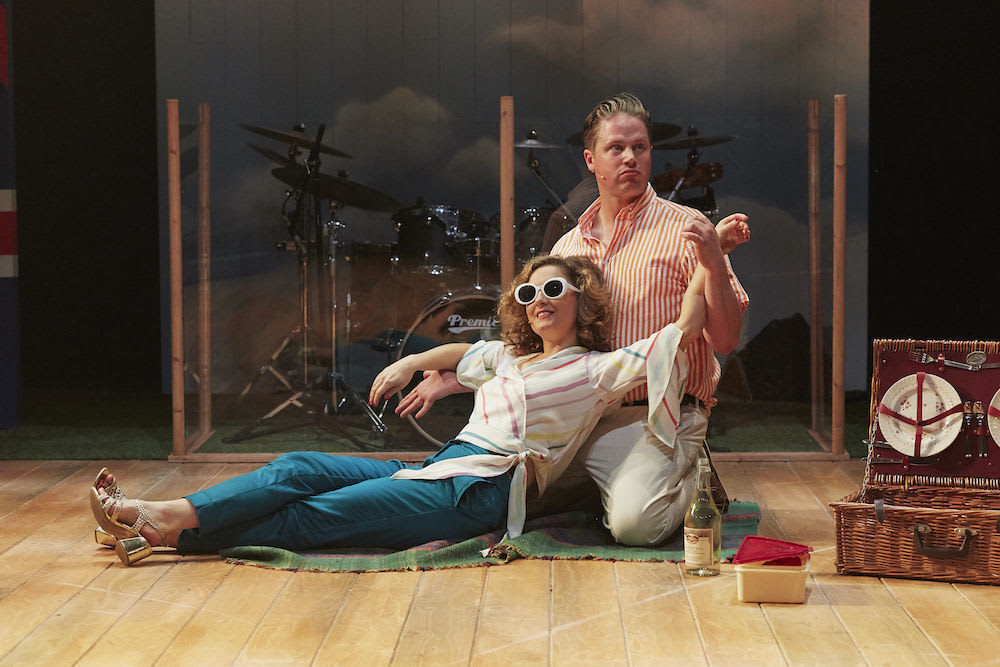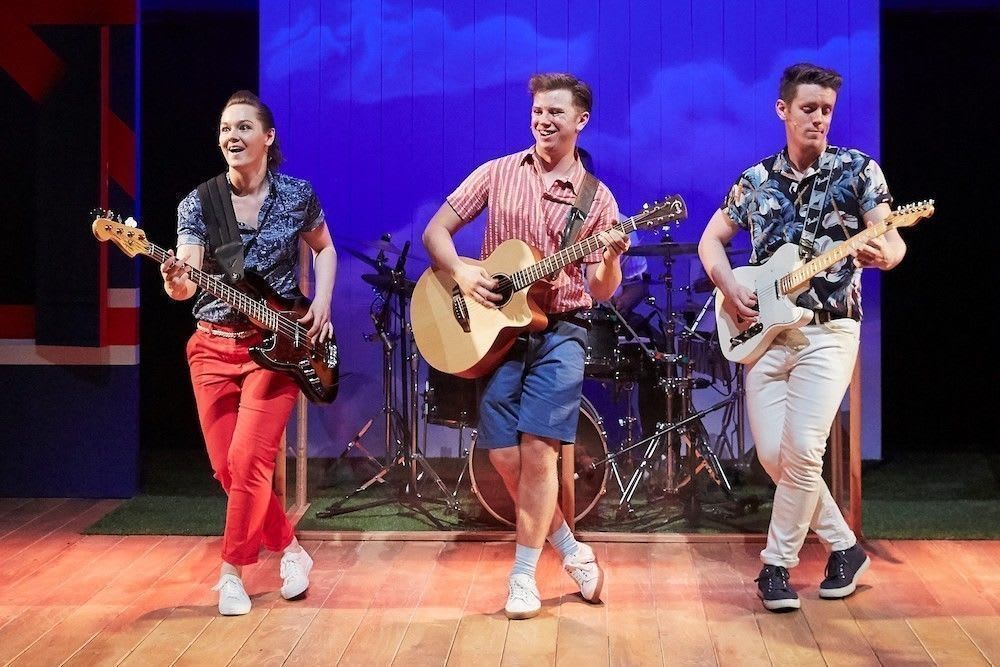 Originally intended to be the first production after the theatre closed for refurbishment, the Octagon takes its audiences out on the road—literally—with its production of the Cliff Richard musical Summer Holiday, although ending up in the familiar surroundings of the theatre instead of the Albert Halls at the other end of the street as originally intended.
The production, from an adaptation of the film for the 1996 production starring Darren Day, opens at the new Bolton Interchange bus station where bus mechanics Edwin (Luke Thornton), Cyril (Alexander Bean) and Steve (David Heywood), who have planned a holiday in the south of France, realise they only have enough money to get to Rhyl. However Don (Michael Peavoy) has persuaded their bosses to lend them a bus, so the holiday is back on.
The audience then join the cast on six double-decker buses to travel down the road to the front of the Town Hall, where Mimsie (Isobel Bates), Angie (Sarah Workman) and Al (Robert Jackson) (the Una Stubbs character has become male to finish with a gay pairing—which would never have happened so openly on stage, screen or real life in 1963) have broken down in their old Mini. They are a singing trio called Do Re Me trying to get to an engagement in Athens, so—guess what?—the boys agree to give them a lift.
After a short walk to the theatre, the play resumes as they find a stowaway on board, a young boy, who is actually young American singing sensation Barbara (Eleanor Brown) in disguise, trying to escape her pushy showbiz mother Stella (Barbara Hockaday)—who, together with manager Jerry (Greg Last), is milking her disappearance for all the publicity she can get.
It has all the ingredients for a great fun summer show, which it largely is, but the adaptation sadly isn't very well written. There are some really good scenes and some great comic lines, presumably from the original film—I don't know it well enough to be sure—but they are strung together with a plot that has huge gaping holes that you could drive six double-decker buses through. It seems like such a missed opportunity that a half-decent comic writer could fix very easily to make it less confusing and a lot funnier.
The Octagon production is an impressive feat of organisation. It's no small task to get a theatre full of people from one location to the next on time—especially on public transport—and it does mean there are some very long gaps waiting for people to get on buses, for other buses to arrive and for the audience to find their seats in the middle of the show. The technical team also impress, with a PA sound that is crystal-clear out in the streets of Bolton (better balanced than in the theatre in fact) and perfectly acceptable in the difficult acoustics of the bus station.
Most of the roles are so thinly written that they barely count as characters at all, but they are performed well enough by an ensemble of actor-musicians. Some roles, of course, do have a little bit more substance: Brown is every bit the radiant Principle Girl, while Peavoy, if perhaps not typical Principal Boy material, is much more convincing as a bus mechanic than Cliff ever was.
Sticking with the panto archetypes, Hockaday and Last form a great little double act that combines Villain with Comedy Duo with even a touch of the Dame—from Hockaday, not Last, whose grotesque Stella becomes more and more extreme during the round-Europe chase, including some of the most unusual flamenco tambourine playing you are likely to see.
Amanda Stoodley's design has famous landmarks being carried on to show current location, which works well, plus lots of giant inflatables in the bus station and a couple of cows. Musically, there are plenty of well-known Cliff Richard hits mixed with some less memorable songs, all well-performed but nothing to convince that he was doing anything radical or controversial, even for the early '60s. Of course they end with a couple of rousing numbers to get the audience on their feet at the end, which sends everyone out feeling good—audience and cast.
It's all great fun and perfect summer fare, all impressively carried out by the Octagon team; it's just a little frustrating that so much effort has gone into the production and so little, apparently, into the 20-year-old script.
Reviewer: David Chadderton