Summer Performance 2016

English National Ballet School
New Wimbledon Theatre
–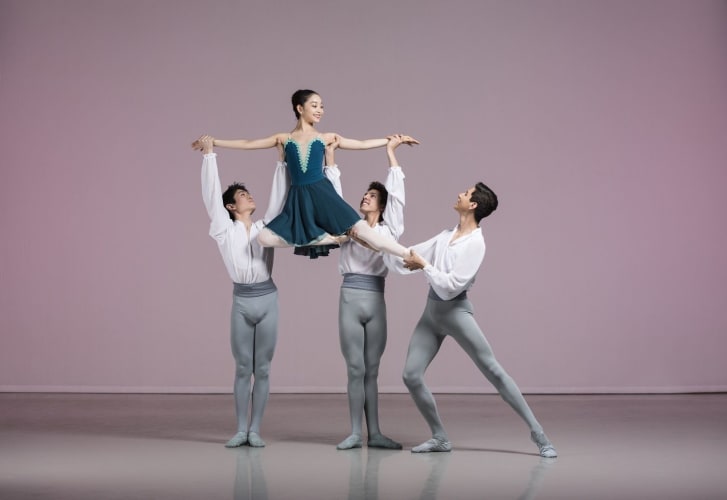 The official school of English National Ballet under the dance directorship of Samira Saidi comprises young dancers aged 16 to 19 years. English National Ballet School's intake reaches from eighteen countries, with over 300 dancers auditioning around the world each year for a place on their three-year Diploma in Professional Dance which is accredited by Trinity College, London.
The performance opens with 1st year students in Lift Me Up, a classical piece choreographed by ENB's Ballet Master and Repetiteur Antonio Castilla to music by Shostakovich and Sibelius. Set to an upbeat tempo, Jose Agudo's Arctic is a group contemporary piece interpreting Inuit traditions. Stretching beyond the boundaries of their classical technique, students move their bodies into unusual shapes in a mesmerizing trance. Agudo's choreography with repetitive motifs demonstrates the versatility of the 3rd year students with certain dancers showing a real flair for his contemporary style.
Three winning choreographic competition pieces follow: Josué Moreno Lagarda's In the Wild, which showcases fantastic ballon amongst the 1st year boys, highly skilled "Circumduction" choreographed and danced by 3rd year student Pablo Luque Romero and Yuki NonaKa's short and entertaining Have a Nice Holiday!. Having observed highly-technical Bournonville enchaînments being rehearsed for the school's Christmas show in December 2015, it is clear that their technical training is paying off.
Interpretation of style varies amongst the dancers in student-creation Feuillemort, choreographed by 2nd year Daniel Myers which is followed by 3rd year students demonstrating their advanced pas de deux work in George Willamson's Shaker Loops. David Bintley's Four Scottish Dances which was created in 1985 for Sadler's Wells Royal Ballet to Malcolm Arnold's music of the same name demonstrates 2nd year students high energy, excellent musicality and fast footwork in brightly-coloured costumes and is followed by the 1st year boys and girls dancing to Olga Semenova's enjoyable Spanish Jota entitled Jotas de Aragon.
The evening culminates with Rudolf Nureyev's adaption of Petipa's Raymonda Grand Pas Classique Act III. Saving the best until last, the curtain rises to a majestic backdrop complete with chandeliers as the students dance splendidly to Glazunov's heritage score, unfortunately disturbed at times by a poor quality recording. The technically challenging solos, corps de ballet and pas de deux work are well-rehearsed with students demonstrating an understanding of the required style. 3rd year student Emily Suzuki's dazzling interpretation of Raymonda echoes that of Miyako Yoshida's performance at the reopening of the Royal Opera House in 1999.
Although the second half of the evening is quite short, it is not at all short in showcasing the students' exuberant artistry and professionalism, which is equal and at times above that of a leading company. Bringing together post-16 students from a wide range of training institutions around the globe can sometimes challenge the ability to successfully perform classical repertoire that requires a strong corps de ballet. However, 2016 shows a significant improvement in technical togetherness amongst all year groups.
The students' solid grounding in classical technique is impressive and, coupled with their fearless ability to perform demanding choreography spanning classical, neo-classical, contemporary and character, highlights their talent and versatility.
Reviewer: Naomi Cockshutt