Summer Performance 2018

Royal Ballet School
Royal Opera House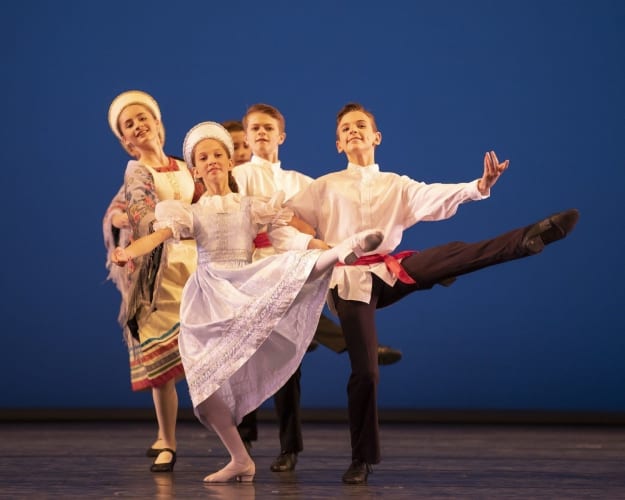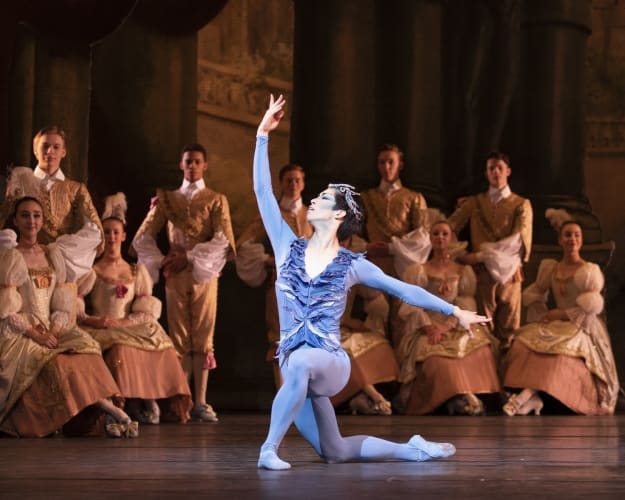 Following four successful performances at Opera Holland Park, the Royal Ballet School returns to Covent Garden's main stage for the annual matinée.
Paul Murphy conducts the Orchestra of The Royal Opera House, as the opulent crimson and gold curtains open to Oliver Messel's kaleidoscopic designs for the final act of The Sleeping Beauty: Aurora's Wedding. Staged by Anthony Dowell, former Director of the Royal Ballet, and superbly cast, the Fairies and their Cavaliers lead, chiefly danced by the graduating upper school students, all of whom could easily be mistaken for established Company members.
Particularly noticeable: 3rd year Tori Forysthe-Hecken, who joins Birmingham Royal Ballet, delivers a lilting and scrupulous Crystal Fountain variation, partnered by Her Cavalier Eli Gruska (American Ballet Theatre Studio Company), whilst Lore Zonderman's molten locomotion and elongated limbs makes for a stately Lilac Fairy, she takes up position with Dutch National Ballet Junior Company.
Anchored with unblemished technical capability and charisma, dancing the principal roles are Amelia Townsend (Princess Florine), Taisuke Nakao (Bluebird), Yu Hang (Aurora), Harrison Lee (Prince Florimund), all of whom have landed a year's contract to work alongside the corps de ballet of The Royal Ballet: the Aud Jebsen Young Dancers Programme.
Megaphone in hand, vociferous 3rd year Harris Bell, who also joins the Aud Jebsen Young Dancers Programme, commands the attention of White Lodge's oldest students, alongside 1st and 2nd years from the upper school, parading as playful white-faced clowns in an excerpt from Didy Veldman's TooT. To Balanescu Quartet's arrangement of Shostakovich's Dance 2 and Lyric Waltz from Jazz Suite No. 2, Veldman's big top creation "questions identity, conformity, anarchy and hope", envisioned by 2nd year Ginevra Zambon immersed in a bundle of red balloons.
Royal Ballet School alumnus Andrew McNicol formulates Sea Interludes, a four-movement maritime novella for 1st year upper school students, to Britten's arrangement of the same name, from the opera Peter Grimes. Donning white fur hats and headdresses, the youngest White Lodge students (years 7, 8 and 9) display splendid theatrical movement and mime in Tania Fairbairn's Snegurochka, Russian character dance to Tchaikovsky's Incidental Music from The Snow Maiden, whilst the older year 10 and 11 students perform Mark Annear's Pulcinella Suite to excerpts of Stravinsky's eponymous score.
Cast the lead in last year's celebrated summer performance of Les Sylphides, graduate year student Rebecca Blenkinsop, who joins English National Ballet, expresses powerful movement quality in Robert Binet's nine-minute contemporary duet Self & Soul, partnered by Harris Bell.
3rd year Simon Regourd impersonates maestro Bach, complete with a white wig and baton, in excerpts from Nacho Duato's BACH, Multiplicity forms of silence and emptiness. To Bach's Cello Suite in G Major, Prelude, upper school students depict an assortment of musical instruments, with 2nd year Madison Bailey as a human cello, played by Regourd in the closing passage Chelo, before the whole school comes together for the late Gailene Stock's Grand Défilé—a finale to Carl Czerny's Études nos. 13 and 14.
The full list of 2018 Graduate Contracts can be viewed on the Royal Ballet School web site.
Reviewer: Naomi Cockshutt