Sunset Boulevard
Music by Andrew Lloyd Webber, book & lyrics by Don Black & Christopher Hampton, based on the Billy Wilder film
Made at Curve
Curve Theatre, Leicester
–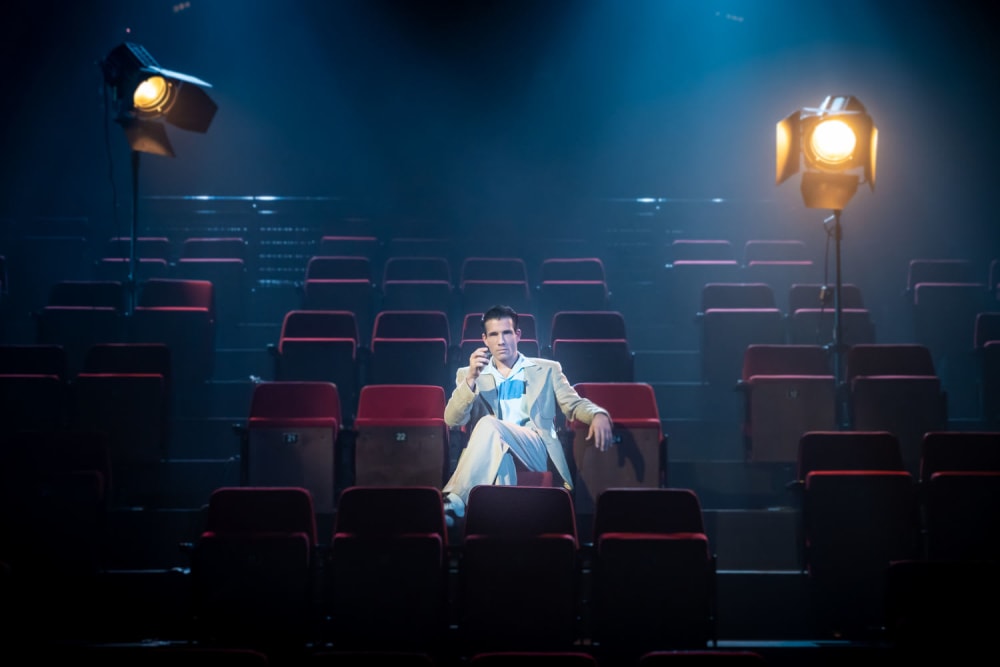 The film industry is an ever-changing concept. Throughout history it has evolved with pictures, sound, narrative and scale. Currently, movie theatres across the world are on their knees but no change was more revolutionary than the dawn of sound and the demise of silent films.
So as the industry undergoes another enormous change, we are presented with Nikolai Foster's ambitious production of Sunset Boulevard. The show negotiated a rollercoaster rehearsal period when, just three weeks before beginning a short run, Leicester entered tier three and as a result were unable to welcome an audience over the festive period.
But the show must go on! So it is fair to say a generous pinch of salt must be taken when applying any criticism to this production at The Curve. After all, it was a truly miraculous effort to put together such an elaborate show in a short window.
In 1940s Hollywood, we meet struggling screenwriter Joe Gillis (Danny Mac), who stumbles across forgotten silent film star Norma Desmond (Ria Jones) looked after by her butler Max von Meyerling (Adam Pearce). Desmond seeks a "return" to an altered landscape of lights and camera but a once glamorous star has lost her shine.
The curve's in-the-round single auditorium enabled some opportunities to be explored, despite the obvious limitations. The bare bones of the production were fitting, after all, it was a show-turned concert based on a film telling the behind-the-scenes story of Hollywood. A cultural Russian doll.
As Foster states in his production notes, they wanted to "use every inch of the theatre" and that they do, something which works terrifically. Filmed on Saturday 19 December and assembled in three days in a socially distanced environment, Sunset Boulevard truly succeeds.
A fine orchestra, supervised by Stephen Brooker, almost steals the show. However, Mac's charismatic Gillis is what hits it out of the park. A nod to William Holden's suave portrayal can be detected, but Mac's charming hold of the camera (something he must have had limited time to work towards) is mesmerising.
Ria Jones's embodiment of Norma is not unlike Gloria Swanson's. The erratic fall from stardom is captured wonderfully by Jones.
A nod to Molly Lynch, whose performance as Betty Schaefer is flawless. While Mac holds it together brilliantly, Lynch's voice is probably the most spectacular on display. Furthermore, she nails a helpless, yet aspirational Schaefer to a tee.
The screen graphics add a little extra, paying homage to Wilder's classic perfectly. The film auteur was famous for his reservations about a musical version of his 1960 motion picture, but it's safe to say even an enigmatic Wilder would have enjoyed Webber's razzmatazz here.
That is not to say it isn't without its faults. A frenetic beginning, where cuts were aplenty and inconsistent, does not set the tone well. Instead of an immersing opening, it feels heavy-handed. The cut time is short with attempted shots to bring the audience in choppy and disconnecting, like a 1990s disaster film.
But, as stated, with a pinch of salt applied, it is hard to argue with what Foster managed to put together. The cut time improves as it goes on and the close-ups are well chosen.
Foster embraced the challenge and in most cases took the ball and ran with it successfully.
Reviewer: Jacob Newbury