Sunset Boulevard
Book and lyrics by Don Black and Christopher Hampton with music by Andrew Lloyd Webber
Michael Harrison and David Ian with a Curve production
Sheffield Lyceum
–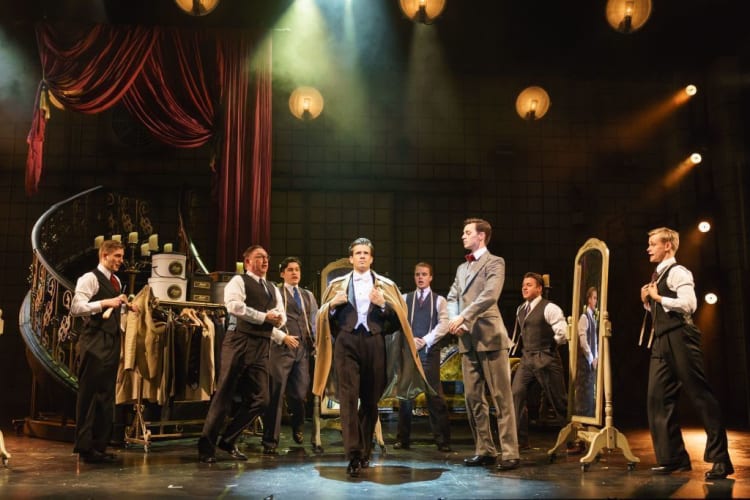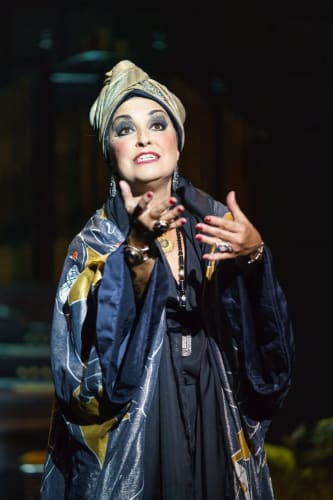 The current touring production of Sunset Boulevard is a thrill and a delight.
Based on the 1950 Billy Wilder film starring William Holden and Gloria Swanson, the musical version hovers around the Hollywood of earlier decades, recalling the glory days of silver screen actresses like the renowned Mary Pickford who became a recluse in her later years.
The transition from silent films to talkies has held endless fascination for later generations of screenwriters, not least for the actors who couldn't make the adjustment to speech and were cut off in their prime, but also because of the exciting historical / cultural backdrop to the semi-tragic personal stories.
The book and lyrics of the musical are attributed to Don Black and Christopher Hampton, and, while the sentiments expressed are sometimes cringeworthy (or perhaps just dated), there are strongly drawn characters, opportunities for humour and a compellingly dramatic sequence of events as the action draws to a close.
This production is distinguished by an outstandingly versatile and imaginative set, designed by Colin Richmond with ample support from Ben Cracknell (lighting) and Tom Marshall (sound). The setting includes the gloomy, dimly lit, decaying abode of the ageing Norma Desmond, switches to a lively diner where the young unemployed of the nascent film industry forget their troubles and, delightfully, car journeys are represented by segments of cars wheeled on by stage hands.
The production is further distinguished by excellent casting, not only of the five principals, but the extensive cast of supernumaries, each of whom is distinctly characterised and sings, dances, acts and plays supplementary roles with energy and enthusiasm.
Danny Mac plays Joe Gillis, an out-of-work screenwriter currently pursued by a couple of aggressive debt collectors. In attempting to escape them, he unexpectedly finds himself on the estate of the wealthy, once-popular silent film star Norma Desmond. He is mistaken for an undertaker who has been summoned to attend to her deceased pet chimpanzee and is persuaded to stay overnight to read the film script she has written. He immediately knows it is no good but takes advantage of her offer so that he can pay off his creditors. The one night extends into months and Gillis finds himself a virtual prisoner in Desmond's mansion.
Ria Jones gives the performance of an opera diva as the vain, emotional, self-deceiving Norma who is encouraged to relive her past glories by her faithful servant and protector Max von Meyerling (Adam Pearce) who nightly plays her old movies and writes the fan mail she receives.
There are powerful performances from this central threesome who convincingly present a spider's web of dependent relationships based on a tissue of lies. Danny Mac is a hugely talented performer, the darling of the audience who presumably watched him dance his way to the final of 2016's Strictly Come Dancing. As Gillis, he has the opportunity to reprise his excellent tango and display a beautiful tenor voice in a tour de force of expressive acting.
Ria Jones grows in strength as the action develops. She has a powerful voice and delivers the show's popular numbers with panache. The role of Norma demands a wide range of emotive acting and singing. She is resplendent as the resurrected actress of her past when she graciously visits Cecil B DeMille on set; sadly diminished and pathetic as the heartbroken shadow of that confident woman; and deeply moving in the final sequence of the musical when she has lost touch with reality. At intervals during the action, huge images are projected onto the rear of the set of clips from Norma's early silent movies and ultimately a film shot by a news photographer of her tragic last performance.
Molly Lynch provides the love interest and considerable artistry as the down-to-earth, reliable Betty Schaffer. Adam Pearce gives a powerful and moving performance as Desmond's mysterious 'keeper' and delights the audience with his rich baritone voice. Carl Sanderson gives a convincing representation of a film mogul in an outfit reminiscent of Hitler.
The music provided by a relatively small orchestra is rich in tone and creates mood for the emotional songs and impetus for the lively group sequences. A delightful, genuinely moving and thoroughly enjoyable theatrical experience.
Reviewer: Velda Harris