Sunshine on Leith
Stephen Greenhorn; songs by the Proclaimers
West Yorkshire Playhouse
Quarry Theatre, West Yorkshire Playhouse
–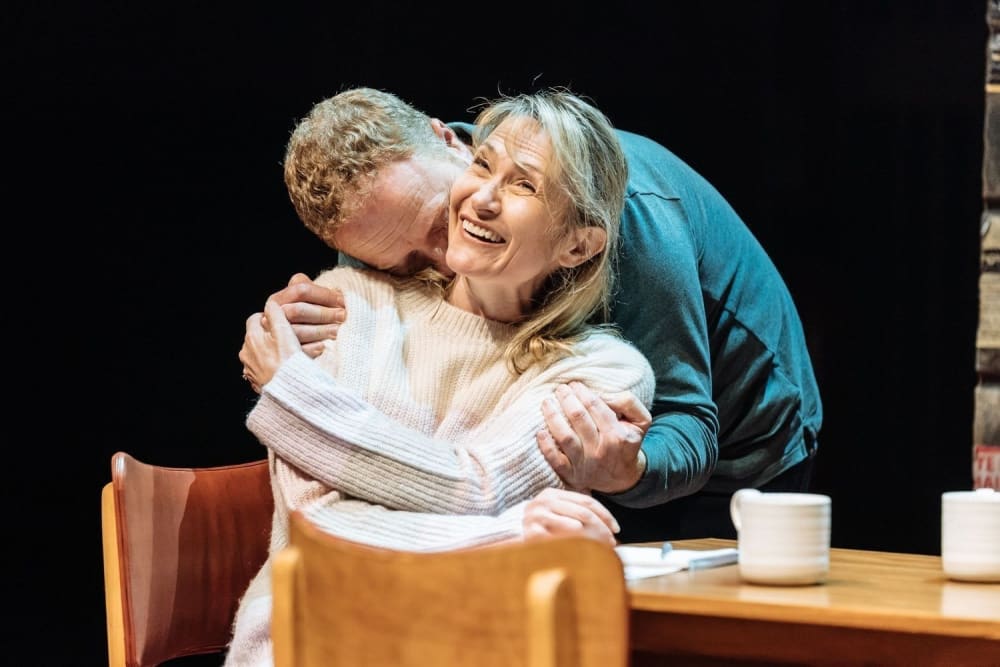 The countdown to the West Yorkshire Playhouse's big refurb continues with a warm-hearted, enthralling actor-musician production of a show originated by Artistic Director James Brining over ten years ago at the Dundee Rep.
Reviving this jukebox musical was a potentially risky choice. It received critical acclaim and popular success in its original form, and has travelled a long way from its home north of the border, also having spawned a film version directed by Dexter Fletcher, starring Jane Horrocks and Peter Mullan. When Brining and writer Stephen Greenhorn first tackled the creation of a "Scottish musical" based on the music of The Proclaimers, it was on native territory, custom-made for the cast of the Dundee Rep.
As Brining has said, though, what constitutes "home" is a key question in the show. It begins with a homecoming: best pals Davy (Steven Miller) and Ally (Paul-James Corrigan) return from service overseas to Leith, the area to the north of Edinburgh in which they grew up. Ally is in a relationship with Davy's sister, Liz (Neshla Caplan) and in turn, Liz soon sets Davy up with her workmate Yvonne (Jocasta Almgill).
The other key figures are Liz and Davy's parents, Rab (Phil McKee) and Jean (Hilary Maclean). About to celebrate thirty years of marriage, they are thrilled at the boys' return and all looks rosy for the family in a tartan—or Hibs green—dream.
The first half of the show is light on drama, but I was leaning forward in my seat from the opening. Two things prevent the production ever teetering into the purely saccharine: the beautifully observed detail of its staging, and the glorious musicianship of the cast. The large ensemble of actor-musicians is employed from the outset in boisterous choreography and rousing harmonies. Often there is so much going on around the stage that you lose track of the key players, but this is joyful and energising rather than confusing or overwhelming.
The set, by Colin Richmond, is flexible, evocative and crammed with lovely details. Emily-Jane Boyle's choreography dances dizzyingly all over it, with some hugely impressive interweaving of the 18-strong cast.
Humour abounds, from broader laughs at the day-to-day tribulations of love, marriage, and football fandom, to subtler points of character such as Rab and Davy's awkward half-embrace at the son's arrival.
If anything, the writing is occasionally too easy, the pop culture and (gently) political references feeling indelicately inserted rather than really helping to generate a sense of truly distinct characters. Everyone is quite nice to each other: as the show progresses there are emotional moments and showdowns about skeletons in closets, but we're never in any doubt that all the hearts are in all the right places.
But what Stephen Greenhorn has done with enormous skill is to weave the lyrical music of The Proclaimers into a convincing and coherent narrative. In fact, despite their familiarity, it's easy to forget that the songs were not written to spec for this show. This is much to the credit of Greenhorn, and also speaks volumes about songwriters Craig and Charlie Reid.
Their music seems tailor-made for use in a musical, with varied and literate lyrics taking on a plethora of topics and emotional states. The chart-topping songs are, of course, present and correct (it's no surprise to anyone, for instance, when one of the characters expresses a desire to head off to America). But there is real strength and variety here, and the arrangements by David Shrubsole amplify and extend their range.
Ultimately, the energy and talent of the whole ensemble is what gives the production its incredible lift. From the opening couple of numbers celebrating Davy and Ally's homecoming with exuberant choreography, to later, more emotional numbers involving delicate harmonies and string arrangements, this is an immensely powerful cast performance, which had me grinning throughout and brought the audience to their feet.
If there's a song here which encapsulates both the spirit of The Proclaimers and the soul of the production, it's probably act one closer "Hate My Love For You". It's passionate, knowing, catchy and bold—clever but ultimately endearingly warm-hearted, just like this must-see production.
Listen to our podcast to hear director James Brining discussing the production, as well as talking about creating an actor-focused ensemble and the forthcoming development work at the West Yorkshire Playhouse.
Reviewer: Mark Smith