Supernatural
Aline Waites and Jago Turner
Giant Olive Theatre Company
Lion and Unicorn Theatre
(2009)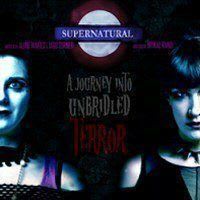 This is a portmanteau piece that puts together four separate stories that give a contemporary twist to old favourites of the horror genre. These comprise two stories by M.R. James, W.W. Jacob's The Monkey's Paw and a dramatic treatment of a Victorian Music Hall ballad made popular by W.G. Ross. They are framed by gathering all the characters on the platform of an underground station where they find that they are trapped and their individual stories enacted for all to see. Quite why they are there is unclear: perhaps as a forewarning as in Barrie's Dear Brutus or perhaps in some kind of limbo awaiting judgement - though in two of the stories the faults are arrogance and foolishness rather than the characters being evil.
This isn't the sort of horror that gives you a good laugh - it's deadly serious. The story telling is compacted so that there is not a great deal of context which puts pressure on the actors to convey everything about their characters in performance, whether Amanda Golding's snobby Alice in The Rose Garden (though where did she pick up that non upper class husband?) or Georgina Winters and Madeleine Cooke's pair of empty-headed Goth girls picking up the monkey's paw.
With only one preview before press night some performances still needed development. Tighter timing and a little tweaking after exposure to an audience should make the horror more effective. I was baffled by an opening film sequence (that seemed to go on far too long) of a speeded up car journey through city streets that ended on a quivering London Transport logo but director Mykal Rand has handled the transitions from story to story with a brilliant theatricality. Not everything comes off but he manages some very ghoulish effects at close quarters (designer Georgina Porteus).
Especially effective is Ben Hood's forceful Sam Hall, spewing his curses at the audience but I didn't find the evening particularly terrifying.
Until 29th November, then Saturday Matinees and Sunday and Monday 7.30 from 5th December - 10th January in repertoire with evening performances and Sunday matinees of "Oliver Twist"
Reviewer: Howard Loxton