Superstition Mountain
Carl Grose
Ha-Hum-Ah Theatre and Minack Theatre
The Drum, Theatre Royal Plymouth
–

Listing details and ticket info...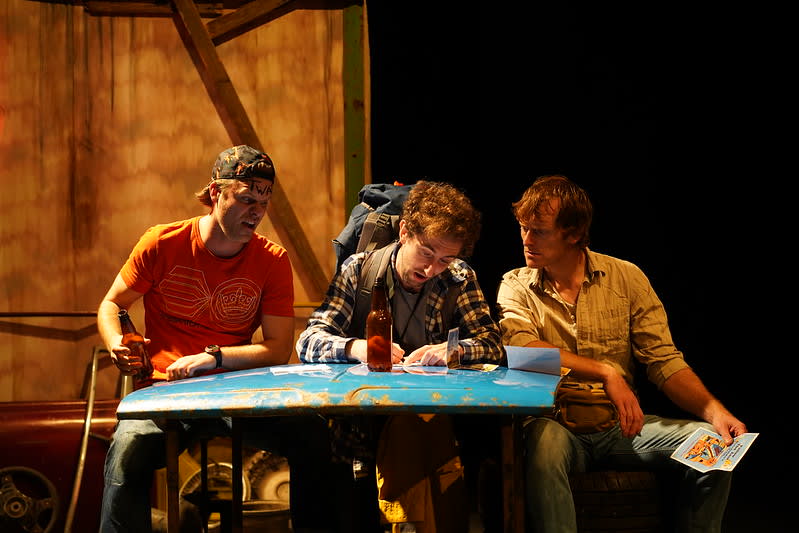 Perennial favourite Carl Grose's black comedy, resplendent with sex, drugs and country and western—oh and John Wayne, a tasselled cowboy jacket, rattlesnakes, tequila and deadly poisonous leaf weed—was last here some 12 years ago and it is good to see it back.
Superstition Mountain is the laugh-out-loud tale of a band of brothers lurching forth from the depths of their St Day scrapyard to follow the call of gold in the harsh desert mountains of Arizona (via Wales) armed with Great Grandma Julia's diary, a Stetson and emergency Hobnobs.
Abel Gunwallow has popped his cowboy boots and his dying wishes are not to be: Hank Williams's "I'll Never Get Out Of This World Alive" starts too late and it is not legal to put him, his record collection and Wild West paraphernalia into his beloved Cadillac and feed it through the crusher. But there is one mission that can be carried out in his honour and that could solve a lot of problems.
Slim (Ben Kernow) has a temper, an estranged wife and child, the memory of his daddy to preserve, a deathbed promise to keep, bad news to break, cocktail pasties to arrange and an astronomical tax bill—and not a single roast chicken to be had to soften the blow. But there them far-flung hills are a-beckoning with the oft-told tale of Tobias Gunwallow striking the motherlode in 1897, the ticket to riches.
A swift exit from Cornwall suits untrustworthy middle brother pothead Dwayne (Darren Seed) who has his own debts to pay (and a nasty Mancunian gang ready to help him do so in kind if necessary), an unwanted affect on (most) women, the ashes of a caravan and a penchant for Chinese takeaway and meaningless apologies.
Less keen is the sensible youngest sibling peacemaker Mark (Jack Brownridge-Kelly) whose girlfriend's shock confession persuades him to pack his rucksack and join the mission complete with video recorder to document the journey. And there is plenty of material for his project, if it ever sees the light of day.
The story of love and betrayal, family folly and sibling rivalry unfolds, on Marion Harrison's somewhat tight and simplistic set, with flashbacks, vignettes, language not for the faint-hearted and lashings of humour.
Good, light-hearted fun.
Reviewer: Karen Bussell