Susanna
N.N. Rakshin
Hole in the Road, in association with Missfit Productions
Lion and Unicorn Theatre
(2009)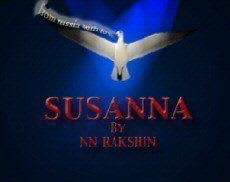 When it has gaps in its own production programme Giant Olive is making its theatre available to other companies, which increases the variety of work on offer to its audience. In addition to house productions that have ranged from Goldoni to Greek tragedy, a very original Christmas Carol, modern Greek plays and contemporary British work, we have recently had visiting companies bringing Aristophanes Lysistrata, and currently a French play of the 1950s. Now, for two performances only Hole in the Road, in association with Missfit Productions stage a play from Russia.
Dramatist N.N. Raskin now lives in Russia but I don't know whether he is actually Russian. He certainly writes Russian sounding dialogue in which the translation appears to be preserving the Russian grammar and sensibility in its fractured English. Having included a number of actors from Eastern Europe in his cast, director Alan Marni has chosen to have them all play it with heavy accents, though whether to match the dialogue or to match more British voices with those unable to hide their native accents is unclear.
When a couple of characters are Russians in a play set in another country it is natural to play them with an accent, but everything here is set in Russia! No one usually feels it is appropriate to play Chekhov with heavy Russian accents when produced in English -- anymore than everyone in Hamlet has to have a Danish accent. While there is a certain charm in the structure of phrases such as 'only pigeons are more artful than I am,' ' the puppy was kicked with my feet,' or to hear someone described as 'our beautiful and clever head', this was totally outweighed by the effort necessary to decipher its delivery, which was often incomprehensible.
Was the effort worth it? Well, I can only say that what the programme describes as a script of 'a modest 34 pages' seemed to take an awfully long time (two hours with a five minute break between acts). This was not helped by a late start followed by a further delay due to some technical hitch. A first act presenting a drinking session with three female students at a teachers' training college and three male engineering students, with the son of a sand-pit manager seeming to be the biggest catch, is contrasted with a second act set in twenty-first-century capitalist Russia in the luxurious flat of one of the boys who is now a successful middle-aged singer-songwriter married to a millionaire's daughter.
When the students bring small cut logs in with them one might assume it is to fuel a stove but it seems it is indicate the lack of furniture, for they balance their bottoms on them, or even stand on them as part of some unnecessary circuiting of the stage. Perhaps the more eccentric moves are intended to emphasis an occasional surreal quality which echoes the oddity of the sentence structures. Or, since in the second act a tea-chest from the first is used as an occasional table, the logs are an effort to provide a contrast with the luxury for which the designers had too tight a budget.
Clearly Mr (or is it Ms?) Raskin, who apparently was an engineer as well as writing fifteen plays plus books and screenplays, is not particularly enamoured of free-market Russia, though perhaps his/her message is that not much has changed. To go by the evidence, life is still fuelled by alcohol (though it is now much more expensive) and love is still subservient to finding a potential partner with income and status. I would not dream of judging the actors by these performances, though Rob Marni as the engineer turned singer-songwriter and Alexandra Thoros as Susanna, the girl he falls for as a student, are strong performers - if only they were allowed to drop/ could lose their accents. This production has not made me in a hurry to see Raskin's other fourteen plays but if Giant Olive is going to offer its audiences such an eclectic repertoire one can't expect to like them all!
Reviewer: Howard Loxton