Susurrus
David Leddy
A Fire Exit Production
The Gate Theatre and Opera Holland Park Holland Park
(2010)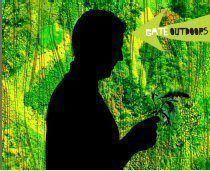 If you like outdoor theatre that's a bit different, then get on down to the inTRANSIT festival currently taking place in the London borough of Kensington and Chelsea. BMX chases and even a monkey and bear parade sit alongside Susurrus in the festival's programme, which runs until August 1st.
Susurrus takes place in the beautiful surroundings of Holland Park. With MP3 player and map in hand, participants are led on a trail around the grounds as they listen to the dulcet tones of four characters, each with their own story to tell. Helena and Moth are son and daughter to opera star Robin Goodfellow, whom The Singer worked with on an operatic production of A Midsummer Night's Dream, and the fourth character, The Researcher, has a strange penchant for dissecting sparrows. Writer and director David Leddy effortlessly interweaves the four different narratives and, as participants venture deeper into the grounds, the story itself becomes more and more interwoven and dark, with the Bard's tale providing an interesting lens through which to read the four individuals.
Originally seen in 2006 at Glasgow's Botanic Gardens, Susurrus has apparently been redesigned for its latest outing. The theatrical route is very well signposted and the map's directions and instructions could not be clearer, but what is missing is an appropriation for this new space; so many tricks are missed. At one point Helena discusses a letter from a Japanese lady to her father - would it not have made sense for this to occur whilst traipsing through Holland Park's Kyoto Garden? We learn that Robin Goodfellow was found dead by a river near a wood - why then did we completely bypass Lord Holland's pond and end up facing a 'Staff Only' sign nailed to a gate?
Yes, the story references the famous woods of A Midsummer Night's Dream as you proceed under a canopy of trees, and yes, we finish on a memorial bench similar to the one discussed at Susurrus' conclusion, but it seems that these are lucky coincidences and so much more could have been done to enrich the experience; for example it would have been wonderful to have come across Moth's lost dictaphone. This so-called site specific theatre is not specific enough.
Between tracks opera music accompanies each happy wanderer on their journey to the next station. This is incredibly relaxing and makes the leisurely stroll around the grounds an enjoyable way to spend a couple of hours. The park itself becomes the play's principal character and the experience of dodging dog walkers, scooter riding school kids, gentle joggers and the pushchair brigade makes the production live. Whilst listening to the eight tracks, the four voices could belong to any of these passing people and this is what makes Susurrus an intriguing experience.
This piece of MP3eatre is a most delightful way to spend a summer's afternoon or eve. This is not, as one character says, some 'God awful outdoor thing where you have to follow actors around some park' - you are always in control and can take as long as you like to listen to the tale unfurl or simply enjoy the sun and watch the park come alive.
Running until 1st August 2010
Reviewer: Simon Sladen