Swallows and Amazons
Helen Edmundson and Neil Hannon, based on the book by Arthur Ransome
The Children's Touring Partnership
Festival Theatre, Edinburgh
–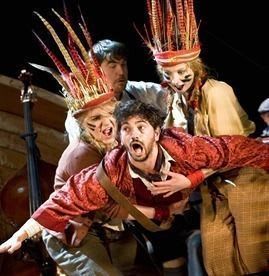 Adapting a well-loved story set on and around water for the stage is quite a challenge, but this only adds to the gung-ho feel of the adventures of a group of children during their summer holidays. The production is buzzing with creativity and is not just a vivid recreation of Ransome's famous work abut also an exploration into the imagination and playfulness of the young.
There is a really strong group dynamic with the four Walker children and nine other actors also forming the band, the set and the other humans and animals of the lake and its surroundings, emphasising the sense of cooperation amongst the children. Many hands make light work, with the ensemble creating wonderful effects on stage, mostly with just themselves and a few household items. Plenty of food for the imagination.
The actors were quite clearly adults—seven-year-old Roger (Stewart Wright) had clear facial hair—Wright, though, was effortlessly believable as the younger and more accident-prone of the children, providing lots of entertainment. Titty (Akiya Henry) had the most vivid imagination and in her adventures, when left alone marooned on the island, really grabbed the audience's attention by herself.
The songs do both add to the sense of childhood play and also help in creating the sense of movement across the water. The book is very much an ode to sailing, and through song they evoke the rhythm and also draw on the nautical language. Song is also well used in the struggle between the Swallows and the Amazons.
The Amazons Nancy (Celia Adams) and Peggy Blackett (Sophie Walker) have fun as the bolshy antagonists contrasting with the more strait-laced John (Richard Holt) and Susan (Katie Moore). There is some great use of the theatre to show the adventures with the Amazons popping up in the boxes and other members of the ensemble appear in unexpected places too.
The best idea though is saved to the end and is a perfect piece of audience participation that basically involves us becoming the water. Definitely worth getting on board as she sails around the country.
Reviewer: Seth Ewin