Swallows and Amazons
Arthur Ransome, adapted by Helen Edmundson, songs by Neil Hannon
Theatre by the Lake, Keswick
–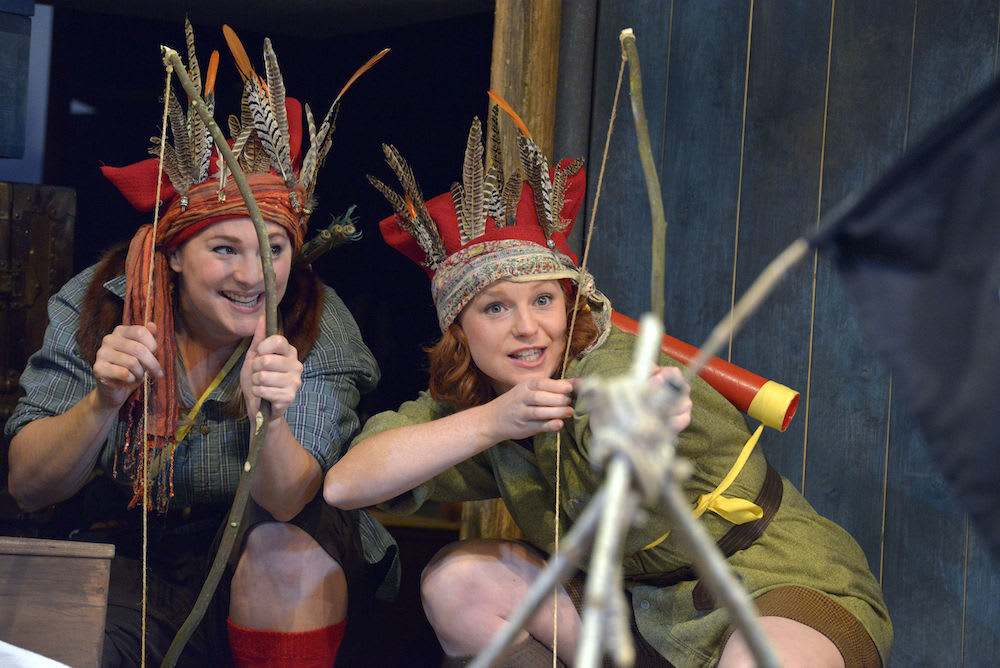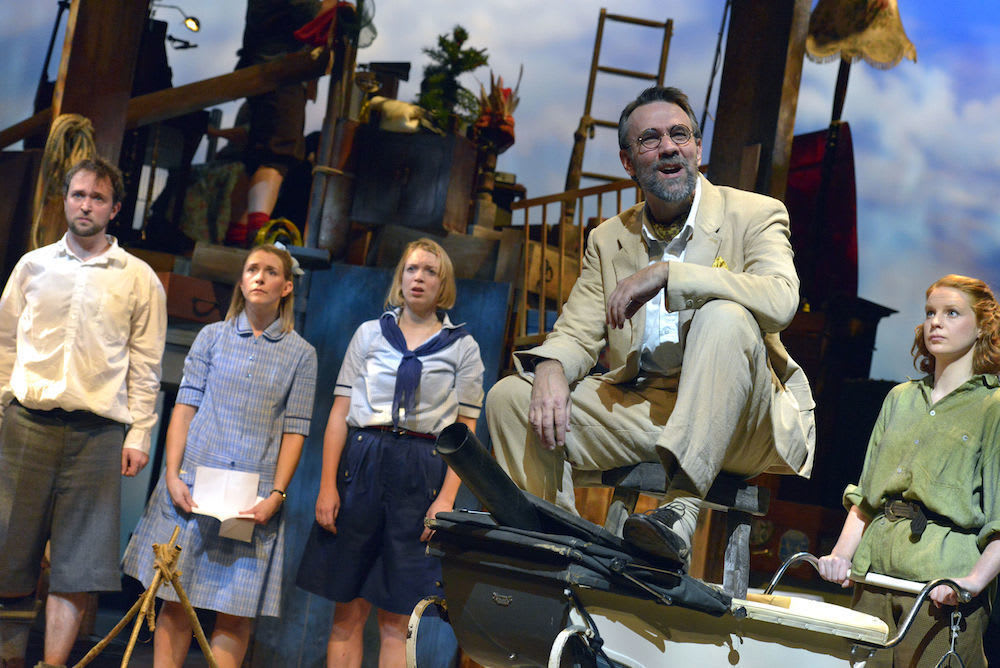 Created for a UK tour in 2011 and 2012 by the Children's Touring Partnership in association with the National Theatre and Bristol Old Vic, this adaptation of Arthur Ransome's classic children's tale, set not so far away on Coniston Water, is as playful in its theatricality as the children's games that it depicts.
Beginning in a crowded attic with Titty as an old woman reminiscing, the flashed-back tale uses furniture and other household objects to depict the events of 1929 when John, Susan, Titty and George set sail in Swallow for an adventure involving pirates and buried treasure.
They come across Nancy and Peggy on their vessel Amazon, which flies the Jolly Roger, and are initially in conflict with one another, but they join forces against evil Captain Flint, or Uncle Jim trying to complete his book on his houseboat.
The story is told from the point of view of the children as a real adventure, with adults referred to as "barbarians", so that even real events are filtered through their imaginations to become part of the story they are weaving around their island camping trip. However their bubble is burst when the police become involved, until Captain Flint returns them to their fictional world.
This imaginative construction is told through Martin Johns's imaginative design in which a table becomes a boat, a feather duster a parrot and a couple of hot water bottles a baby, which all works well. The ensemble feel extends through the use of actor musicians who also create live sound effects.
While all of this is visually impressive, there appears to be very little story stretched thinly over a long time. The way adults portray children feels a little clichéd, even in this "jolly hockey sticks" world of early 20th century children's literature. This is contrasted nicely when Uncle Jim enters the story as a real adult, played superbly by Martin Fisher, but he appears quite rarely until near to the end.
Neil Hannon creates some wonderfully witty songs with self-contained stories for his band The Divine Comedy and some of that wit and colour transfers here for the character songs, but few of the songs drive the narrative forward, although it isn't always easy to tell as there is a lack of strong singing voices and they are sometimes drowned out by the musicians.
There are decent performances all round. For the Swallows, Joel Sams is the captain, John, with Nadia Morgan as careful Susan, Frances Marshall as adventurous Titty and James Hogg as young, fearless Roger. Against them are the very lively Rosalind Steele as Nancy and Caroline Hallam as Peggy, the Amazons. Heather Phoenix appears occasionally as Mother and Graham Lappin fills in with most of the remaining characters.
At 2¾ hours, it feels a little long for the amount of story it has to tell, and the opening with Titty as an old woman serves no purpose other than to justify the design, especially as it isn't resolved at the end.
However there is fun to be had, especially in the imaginative design and use of scenery and props, some good performances and a smattering of humour and adventure in a production designed for the whole family to enjoy together.
Reviewer: David Chadderton