Swamp Juice
Jeff Achtem
Bunk Puppets & Scamp Theatre
Soho Theatre (then touring)
–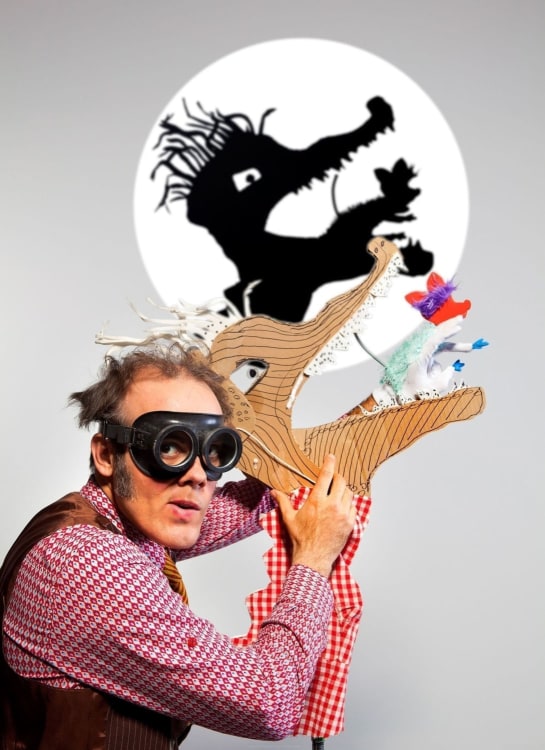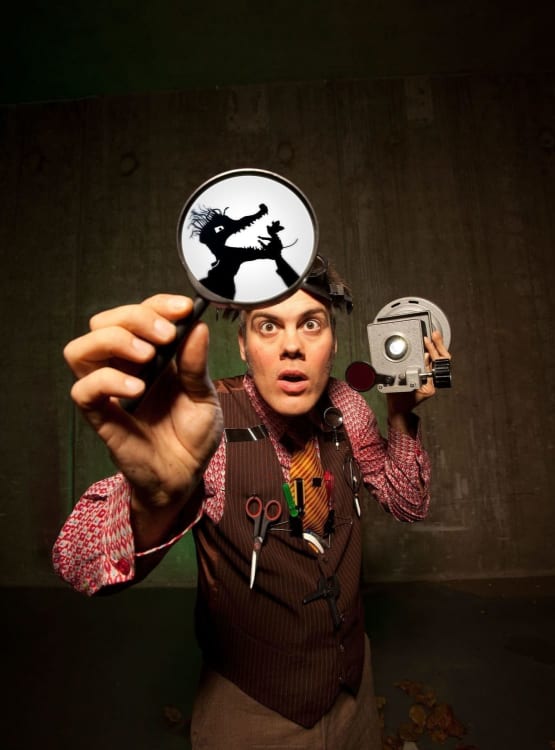 This show is an hour and a bit of delightfully devised shadow puppetry full of silliness and surprises.
We've all made a fox with our fingers but Jeff Achtem, over here from Montreal, is up there with that clever guy on You Tube plus add-ons entirely his own.
As you take your seat, the air is full of bird calls, squeaks, whistles, creaks and wheezes that seem to come from all around while, down on the stage sitting in the shadows of what looks like a very untidy backyard, with bits of things strung on a clothes line, junk all over, hanging sheets, is a figure grunting and banging as he sits on the floor. When he gets up we see a goggled mad professor in a red skirt who grunts an "Hello". Adding some extensions to his finger he presents us with a spiky-haired shadowman: Mr Bunk. This fellow, equipped with a magnifying glass, sets out to investigate swampland and discovers a whole series of strange creatures including snails, a mouse, a snake, a crocodile, a huge fish and a bird that always seems to keep one wing flap ahead of him. It is not so much a story as a series of encounters with plenty of fun along the way.
This isn't shadowplay behind a screen. Achtem is always in full view front of it, we can see exactly how he makes each image. If some of them are just a bit scary for the youngest in the audience, this odd clown assures them there's no need to be frightened: "it's not a documentary". His images are built up with inventive materials and deft manipulation. With light cues that switch between lamps he produces cinematic cross-cutting of images and is an expert at matching the distance between different sized objects to form a proportionate picture.
Handing out things for members of the audience to hold, the audience helps make some of his images and the creatures from the swamp escape out into the auditorium, until at last Achtem builds up to his "jaw-dropping 3D finale". That's what the publicity calls it and for once it's not hype. This is when it gets really scary! You might want to take off your coloured glasses for a moment just to be sure it's not real!
Kids will love it and so did I.
With a music track composed by David Henry, Nick Carver and Tristan Kelley and on the dot cueing that help support his dexterity, Jeff Achtem is an innovator who takes shadow puppetry quite literally into a new dimension.
Reviewer: Howard Loxton