Swan Lake/Loch na hEala
Michael Kegan-Dolan
Teac Damsa, Sadler's Wells London, Colours International Dance Festival, Theatrehaus Stuttgart, Dublin Theatre Festival and Les Théâtres de la Ville Luxembourg
Sadler's Wells Theatre
–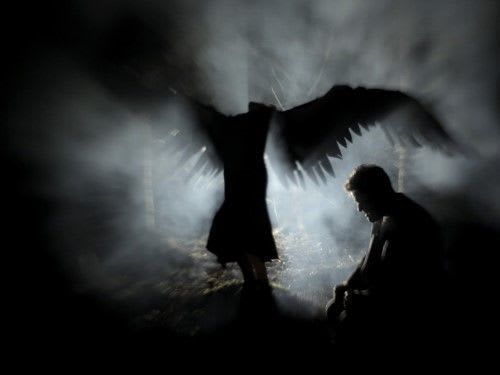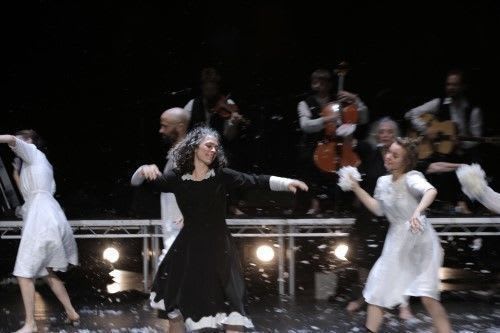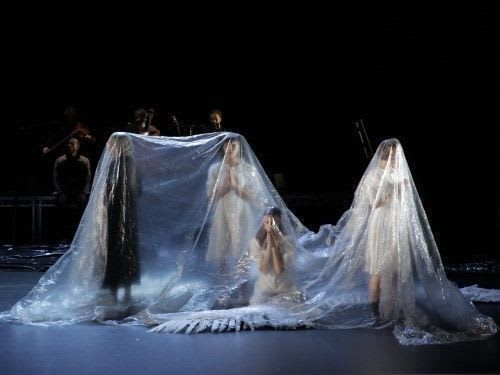 This isn't the Swan Lake of Petipa, Ivanov and Tchaikovsky but a radical reimagining that also references the Irish legend of the Children of Lir who were also turned into swans. There are elements of both but, despite the presence of a narrator, Michael Kegan-Dolan first work for his new company Teac Damsa (it translates as House of Dance) seems to be more about expressing complex feeling that telling a story.
The stage space, unmasked and open to its walls, has rostrums across its rear and metal ladders standing as though between being set up or dismantled, not a scenic setting, but there are people on it.
Centre, a man, no longer young, is naked except for saggy underpants, tethered by a white halter to a concrete block, sometimes making pained animal noises. Up left, a man sits in a beanie hat, motionless except for occasional puffs at a cigarette. Up right, a woman with long grey hair sits in a wheelchair. A violinist, cellist and double bass player join their instruments on the rostrum and black drapes are raised behind them as the house lights are rapidly dimmed.
From the stalls, three men in black suits and big-brimmed hats, barefooted, climb up on to the stage. They circle the tethered figure, waving their arms in some enchantment, closing on him until he is standing on the concrete. They tug on his rope, remove it then, when he is forced to the floor, they pour water over him in a ritual washing. Mopped dry with scarlet towels, they then clothe him.
It is Mikel Murfi, who now becomes narrator and sometimes a Holy Man telling a tale of Jimmy (Alexander Leonhartsberger, in the beanie hat), nearly 36, sinking into depression as he mourns his recently dead father. His mother (Elizabeth Cameron Dalman, in the wheelchair) wants him to marry and at his birthday party (as in the Russian ballet) he is offered a choice of possible brides.
But before then, the swans, the children of Lir (all female in this version), have put on their white wings and descended from ladders. Do they come to tease or to comfort? Jimmy encounters Fionnuala—exactly what happens was unclear, despite the narration, for I found Murfi's accent sometimes impenetrable.
The girls on offer (the male dancers in dresses) are rejected by Jimmy but now black swans have arrived, though with some white feathers. This isn't good white replaced by evil black but perhaps an expression of Jimmy's depression. There is a drama involving Fionnuala: is she dead? Now he is up on the roof of his house protesting against it being pulled down and wielding a rifle his mother has given him as a present. Police arrive and they shoot him. In some kind of strange apotheosis, a path of scattered feathers is laid out and then more are piled over everyone and the sweeping wings of Hywmi Shin's costumes stir them into a storm.
The musicians (Aki, Kevin Murphy and Danny Diamond) play a score that seems drawn from both Irish folk music and Scandinavian influences, at times mesmeric, with the choreography of swirling arms and circular patterns matching its often-ritualistic intensity. Sabine Dargent's design uses a huge sheet of black plastic that encroaches like lake water, while clear plastic fixes figures like statues beneath it.
From his beginning as victim, Mikel Murfi's figure seemed to become the one in control but whether the sudden crash of concrete, energetic footwork or the eruption of action there are continual visual surprises. People with a deep knowledge of Irish culture may find a very particular message here but you need no special knowledge for this intriguing work to have a strong emotional impact.
Reviewer: Howard Loxton