Swan Lake
Music by Pyotor Tchaikovsky
Moscow City Ballet
Royal & Derngate, Northampton
–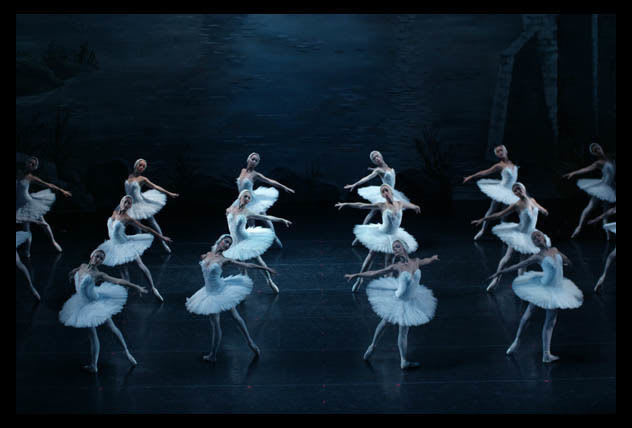 A ballet from Moscow—and Tchaikovsky's Swan Lake at that—is like eating a croissant in Paris: you know that you are going to see performance of the highest quality.
This is certainly the cast at the Royal & Derngate, Northampton. A difficult one to balance for the producers, it seems the artistic directors have got this one right. A mass appeal ballet can lack the passion and artistic creativity that are main ingredients for an appealing ballet. In this case, the performance met both demands: a full house and a beautifully creative ballet.
The first aspect to celebrate is the level of commitment from such a large company. It was great to see a whole stage filled with swans, rather than a gaggle just making up the numbers. In fact, the highest points in the performance came during the white swan moments.
Refreshingly, we were treated to some great character dancing. The black swan interpretation perhaps owes more to the film of the same name, with the gothic and shadowy undertones offering a dangerous side to the role. Whatever the influence, the role was carried off with aplomb by Kozhabayev Talgat and it did offer another dimension to the performance.
Perhaps the jewel in the crown was the excellent live orchestra whose beautiful accompaniment perfectly created the atmosphere, whether dreamy and light, or heavy and dark in the black swan's pas de deux. Fitting perfectly in the orchestra pit of the Derngate, it was a faultless musical performance and great to hear live.
The quality of the music certainly reflected the quality of the ballet. The various solo dances in the royal household scenes between Sergei Zolotarov as Prince Siegfried and Oryekhova Liliya as Odetta were well executed and danced with focus and passion; the warm response from the audience and the huge ovation at the end of the piece revealed the appreciation felt for the commitment of the whole company.
So, the under the direction of Natalia Ryzhenko and Victor Smirnov-Golovanov and a whole host of talented choreographers, we have a ballet that will not leave you disappointed. Try and catch the Moscow City Ballet as they continue a multi-date UK tour.
Swan Lake tours the UK until 27 March 2012.
Reviewer: John Johnson