Swan Lake

St Petersburg Ballet Theatre
London Coliseum
–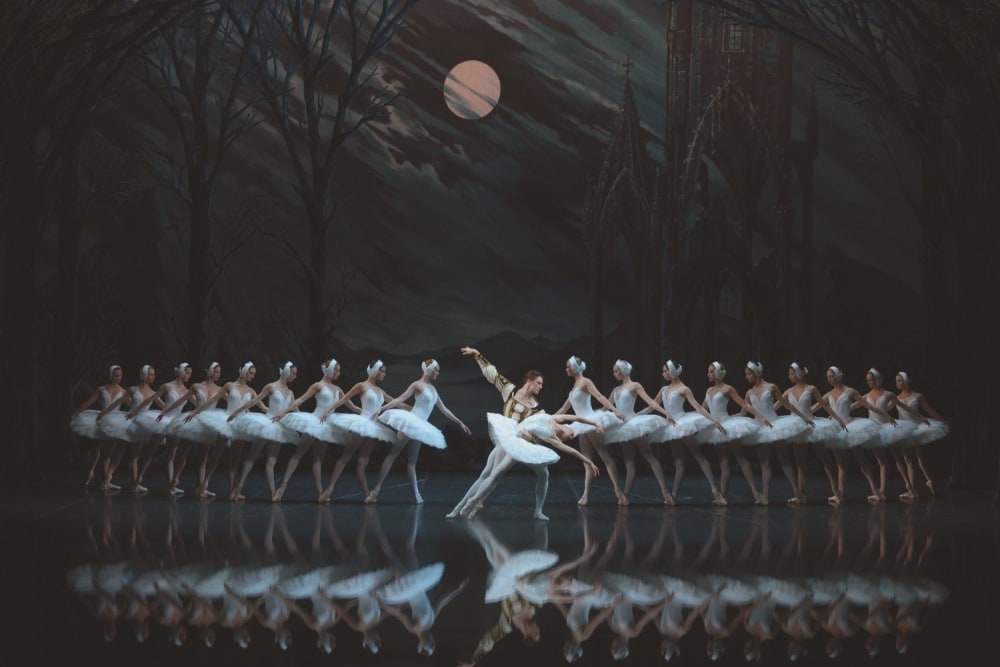 After successful seasons across six continents, from Europe to Asia, North and South America as well as Australia and Zealandia, St Petersburg Ballet Theatre returns to the London Coliseum as part of its 2017/18 tour. Under the directorship of impresario Konstantin Tachkin, who founded the Company in 1994, sixty Vaganova-trained artists come together to perform Tchaikovsky's perennial classic, Swan Lake.
Stationed in Russia's second-largest city, differing from the likes of the Bolshoi or Mariinsky, the wholly-touring ensemble survives without reliance on any partners or funding. For a British audience, this edition of timeless romance is told with a Russian twist. Here, the finale embraces an anticlimax, the curtains drawing on a joyous ending, very much opposing to the familiar lakeside tragedy.
The atmosphere of each scene is enveloped and created by a simple, yet purposeful design; very much convenient for a long-running 'on-the-road' production. The abundance of sets and costumes portray optimism on a small budget, but the rumpled cloth-moon perhaps unsuitable for the London Coliseum's enormity.
Under the baton of Vadim Nikitin, St Petersburg Ballet Theatre performs without its own musicians, instead recruiting the orchestra of English National Opera to lead Tchaikovsky's full-length score. Their accompaniment is admirably paired, yet at times slothfully executed to suit Irina's Kolesnikova burdensomely characterisation of Odette—the Swan Queen. 38-year-old Kolesnikova, the company's only Prima Ballerina, also happens to be the founding Director's wife.
Performing the titular dual role, her delivery is measured yet sublimely elegant and masterful—very much a pained rendition of act I's grandiose white beast. Expressed through her striking gaze, made possible by her prominent eyes, Kolesnikova's depiction of Odile, the secondary antagonist, is profound. She flaunts her tenacious technique. However, upon reaching the coda, intending to impress, the 32 ebony-numbered fouettés are executed at such speed, they forfeit their essence and flow.
Hailing from the Bolshoi Ballet, Denis Rodkin guest partners Kolesnikova as her Prince Siegfried. His buoyant suspension and soft landings marvel in technical capability, yet his kitten-like stagecraft reflects more of a kinship than a lover. Missing this dramatism, Rodkin's performance is comparable to a Bolshoi Ballet Academy exam or classwork demonstration—the Moscow-born Principal graduated from here in 2013.
Boasting explosive straddle jumps and accelerating virtuosic pirouettes à la seconde, Sergei Fedorkov's acrobatic Jester enchants the crowd, markedly outperforming the corps de ballet. Lacking in projection and energy, unsupported by their worn, softened and—in the case of the females—blackened pointe shoes, perhaps exposing poorly directed funds, the supporting troupe do not do the Company justice.
However, the act III Character Dances—Czardas, Mazurka, Spanish and Neapolitan—are well-staged, a vibrant affair. St Petersburg Ballet Theatre continues its tour season to South Africa's largest city, Johannesburg.
Reviewer: Naomi Cockshutt