Swan Lake
Music by Pyotr Ilyich Tchaikovsky; choreography by Lev Ivanov, Marius Petipa and Peter Wright
Birmingham Royal Ballet
The Lyric, Theatre Royal Plymouth
–

Listing details and ticket info...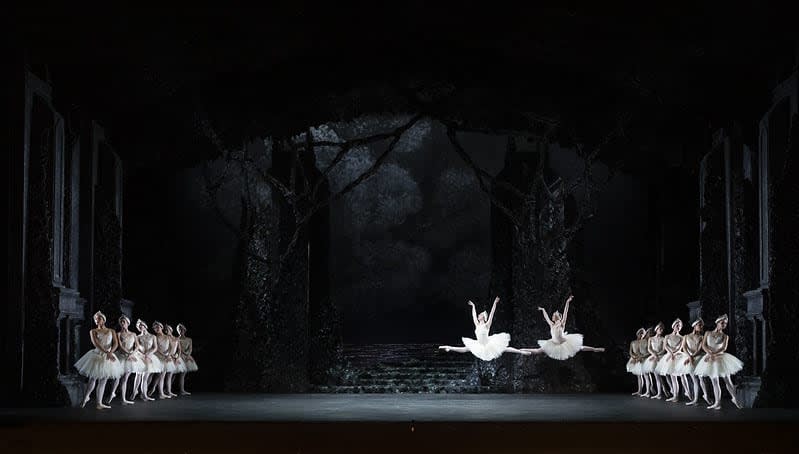 Peter Wright and Galina Samsova's 1981 production of the perennial favourite Swan Lake never fails to enchant.
Gothic and sumptuous, dark and light: Tchaikovsky's romantic ballet encompasses the full gambit of emotion from the opening staid funeral procession to the frivolity of partying, from soaring love to deep despair.
Mathias Dingman's diminutive stature belies his leaps, big arabesques and giddy spins as party boy Prince Siegfried whose drinking, hunting and flirting days are to be curtailed by marriage at the behest of the regal Queen Mother-in-mourning (Eilias Small). Egged on by ebullient best mate Benno (Gus Payne whose double heel clicks impressed), the prince drinks and carouses—cue the Goblet Dance—before heading into the forest for a midnight foray with his newly-gifted crossbow.
The bevy of ethereal swans wafting in the moonlight are breathtaking. Rippling arms and carefully synchronised ensemble work provide a shimmering backdrop for the exquisite Momoko Hirata's delicate transmogrification as woman-to-swan Odette. Fragile and fluttery, Hirata entrances with spot-on pirouettes and, as the duplicitous Odile, her fouettés thrill while the pas de deux with Dingman have palpable chemistry. Superb.
Principal character artist and Artistic Enrichment Officer Jonathan Payn is a dramatic broodingly evil Baron von Rothbart while an inexhaustible Amelia Thompson is ubiquitous as a strutting prince's good-time girl, stately Swan Maiden and tambourine-wielding sassy Spanish dancer
Lighting by Peter Teigen (adapted by Johnny Westall-Eyre) enhances Philip Prowse's lavish costume, Gothic pillars and atmospheric lakeside designs highlighting the simplicity and fluidity of Marius Petipa, Lev Ivanov and Wright's choreography. There is plenty of colour and passion with courtesans, courtiers and czardas showcasing in stark contrast with the floaty, flimsy swans with the Dance of the Cygnets a hit every time.
Paul Murphy conducts the Royal Ballet Sinfonia bringing light and shade to the melodic contour of Tchaikovsky's rich score.
And the pièce de resistance is the heart-stopping opening of the last act where the corps de ballet rises ethereally from the mist—tremendous stuff.
NB Vadim Muntagirov, Principal Dancer, will perform the role of Prince Siegfried on Friday 17 and Saturday 18 March 2023 alongside Principal Dancer Céline Gittens in the role of Princess Odette.
Reviewer: Karen Bussell