Swan Lake
St Petersburg Ballet Theatre
Lyceum Theatre, Sheffield, and touring
(2008)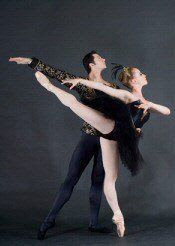 Swan Lake, a sad and moving story with the familiar music of Tchaikovsky, is presented as the St Petersburg Ballet's offering to Sheffield, astonishingly resplendent with the background of a country inn, followed by the dark woods where evil abounds and into the gleaming gold of the Royal Palace - enhancing the auditorium of the Lyceum beyond imagining. The drinking session celebrating Siegfried's birthday goes with a swing, with the Jester (Vyacheslav Sunegin) weaving in and out, leaping high in the air, getting the old Tutor drunk, and setting up Siegfried to go off hunting. It may be in contrast to the manifestly rigid direction of everyone else that the Jester's capering sometimes appears to be a surprise to other dancers, as he suddenly appears from under their arms. Certainly, throughout the ballet, one can appreciate the meaning of the term corps de ballet since they are so absolutely smooth and perfect in the synchronicity of action, that they do indeed move as a single body.
It is hard to imagine that the black-clad Rothbart (Dymchik Saykeev gloriously over-playing the wicked ogre) is the father of the sylph-like, albeit black-clad Odile, so much more lively than her swan-like white swan, Odette, that one is surprised to see they are the same person, principal dancer, Anna Podlesnaya. Seigfried (Dmitri Akulinin) brings out the best in both of them, as well as his own exquisite performance.
An evening of delight, enhanced by the sweet sound of the hidden orchestra, almost languidly conducted by Alexandr Kantorov, who, to the dismay of Odette/Odile, apparently lost his way between the orchestra and the stage as she kept up her series of curtain calls, glancing to her left apprehensively, until he appeared from the riight.
During the interval, one of the attendants came rushing to the front of the theatre after she caught sight of some flashes as someone did the unforgiveable - took photographs in the theatre. It was only when she realised it was a player form the orchestra, evidently taken with the old style Lyceun auditorium, that she forgave and forgot.
Reviewer: Philip Seager