Swan Lake on Ice
The Imperial Ice Stars
Music by Pyotr Tchaikovsky
Sunderland Empire and touring
(2005)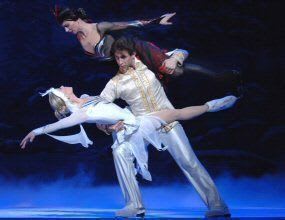 To be honest the 'on ice' bit of the show's title has somewhat coloured my expectations. Maybe I've seen one too many of the Disney 'On Ice' shows. What I was expecting was a kitsch, cartoon-like depiction of this most romantic of ballets. Instead, I have to say, I was completely swept off my feet. Talk about skating on thin ice.
It was fluid, graceful, breath-taking stuff. A vibrant spectacle that managed to be both exciting - with all the thrilling manoeuvres, speed and derring-do involved, yet incredibly poignant in all the right places, too.
This dazzling production got a standing ovation - and I was one of the fans on my feet.
There were flashing blades, whirling and twirling aplenty, even skating on stilts, but it was fantastic theatre, very inspiring and with a fresh, original feel.
The Imperial Ice Stars are a complete revelation. Over two dozen world and European championship skaters, who between them have notched up over 200 medals, brought this show to life.
Chisel-profiled Vadim Yarkov as the pivotal Prince Siegfried was an absolute pleasure to watch and his scenes with Olga Sharutenko as the magical white swan, Odette, were joyful and moving. Many will remember Olga as the star of the recent ITV show Dancing On Ice and she lends plenty of star appeal to Swan Lake. Her performance was utterly captivating.
Andrei Penkine, as the Prince's friend Benno, brought humour and a slightly sardonic touch to his role. Anton Klykov gave an exciting, thrilling performance as the evil sorcerer Rothbart.
The slender, elegant swans in their chiffon, sequin-spangled costumes were very stylish.
Like an iceberg, I got the distinct impression we were seeing only one-ninth of what these incredibly talented skating stars are actually capable of.
Reviewer: Katharine Capocci