SWAP!
Ian Ogilvy
talkingScarlet
Grand Theatre, Blackpool
–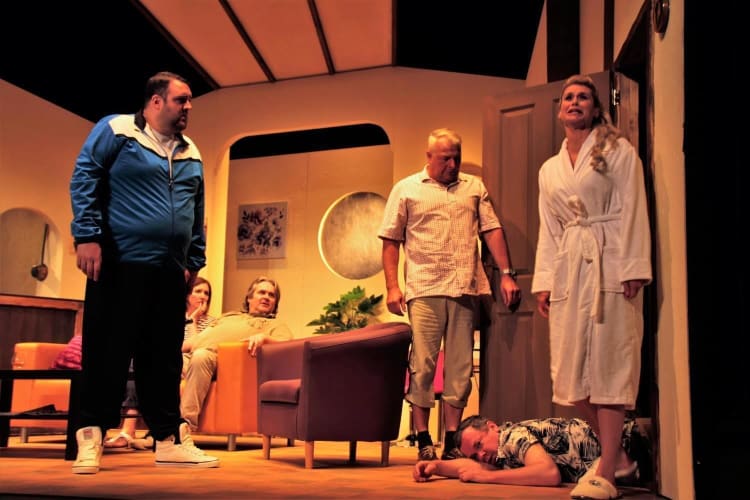 Without the snap, crackle and plot of pure farce, but with something more like the beginning, muddle, and end of a situation comedy...
SWAP! has apparently been packing them in at theatres in Poland and Moscow for several years and is currently nearing the end of its nine-date UK debut tour. Along the way it has also swapped four cast members out of the original seven.
The story wraps around three British holidaymakers caught up in Spanish gang warfare when their holiday home exchange turns out to have even more than skeletons in the cupboard.
Since one of the Brits is also an undertaker, you can pretty well join up the dramatic dots as you go along, particularly when there's a body count that would not disgrace an Agatha Christie thriller. There's even a little theatrical 'corpsing' thrown in for good measure!
It's all contrived, written and directed by '70s pin-up star Ian Ogilvy, whose own years of acting and writing have clearly given him a deep repository of characters, situations, one-liners and double entendres to play with.
There isn't really the pace, titillation, or even enough on-stage entrances and exits, for SWAP! to properly qualify as farce but there is just enough comic invention to give it conviction.
David Callister's central role, as the effete undertaker, borrows from the Carry On camp and he and Patric Kearns, as his ne'er-do-well brother-in-law, carry much of the comedy load. David Janson, Davies Palmer and Ben Sleep—as a fast-rotating trio of villains—don't always fully project the best of their lines.
Louisa Lytton and Michelle Morris have been drafted into the female roles, as long-suffering wife and gangster's moll, and acquit themselves well.
Reviewer: David Upton