Swappnam: Dreams
Conceived and scripted by Krithika Subrahmanian, music by Isaignani Ilayaraaja
NaMaargam Dance Company presented by Dhruv Arts
Southbank Centre Purcell Room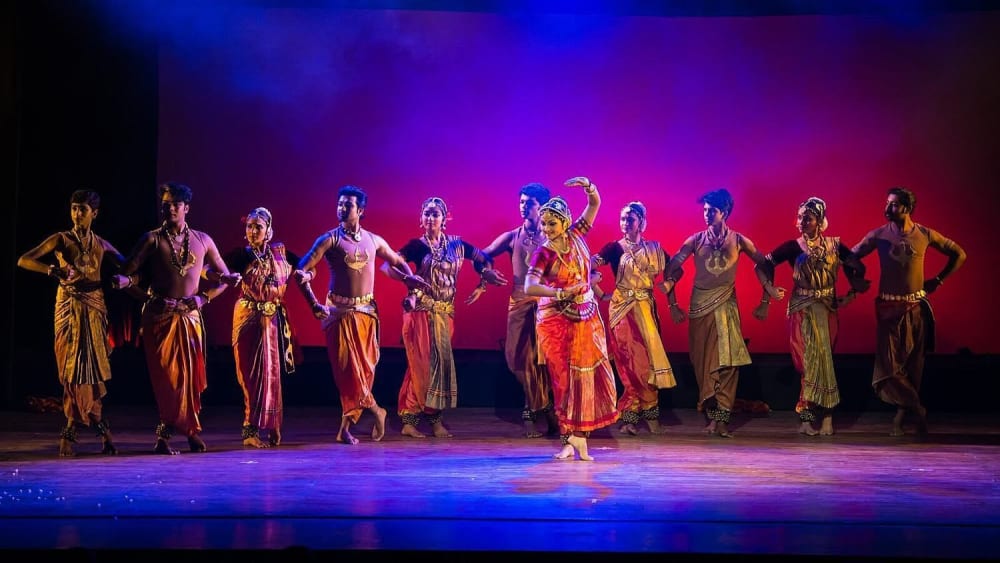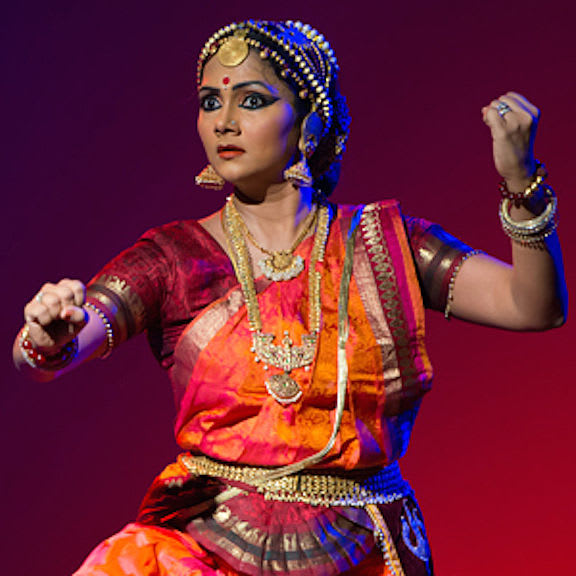 Presented as part of the London International Arts Festival, this is the concept of Bharatanatyam dancer Krithika Subrahmanian, a major exponent of this dance form of her native Tamil Nadu (and also well-known as an architect). It is a dance work choreographed by her to a series of songs with her lyrics that celebrate dreams, dreams of love, of the young and the old, of nature, male dreams and female dreams and all linked in some way to the god Shiva. The music is by the leading composer of Indian cinema scores Isaignani Ilayaraaja and is the first full-length work composed for an Indian classical dance production.
Bharatanatyam is the oldest classical dance tradition of India, a dance form that is characterised by a fixed upper torso with legs bent or knees flexed. It has a sophisticated vocabulary of hand gestures, eye movements and facial expressions, all with specific meaning.
I'm no expert so that, though the meaning of some is obvious, I was not able to interpret most of this classical mime, nor could I understand the lyrics, some of which I believe draw on ancient texts. I was not able closely to follow the content or narrative of the 38 separate songs but still found this thoroughly enjoyable for this is a rich and varied score, beautifully sung by some of India's top singers, and its always watchable.
Projections and film ranging from temples to forest landscape are used to create settings (with a montage of street scenes for a modern episode) and Aiyyelu Shivakumar provides some dazzling traditional costumes. But it is the dancers who hold the attention.
Krithika Subrahmanian is an excellent and very precise exponent of the Bharatanatyam style but though she is the centre of the work she isn't a star who hogs the limelight. Male dancer Mithun Shyam, with bent wrists and fluttering fingers but strikingly still in hieratic poses, is often a focus of attention or a significant presence placed upstage.
Though traditional in style, the choreography is not rigid, there is a very playful sequence of young girls and, though precise when needed, Sundaresan Ramesh, a finalist in the South Asian group for this year's BBC Young Dancer, is especially delightful in his flirting interaction with Daniella Varghese. This pair, like most of the company, which also includes 2015 BBC Finalist Anaya Bolar, are British dancers who learned Swappnam for this performance. Many of them have other careers (like Krithika Subrahmanian herself) but the quality of their dancing shows their passion and their commitment. It is great to see so much British talent adding to the diversity of our culture.
Reviewer: Howard Loxton