Sweeney Todd: The Demon Barber of Fleet Street
Music and lyrics by Stephen Sondheim, book by Hugh Wheeler, from an adaptation by Christopher Bond
Derby Theatre and Mercury Theatre Colchester
Derby Theatre
–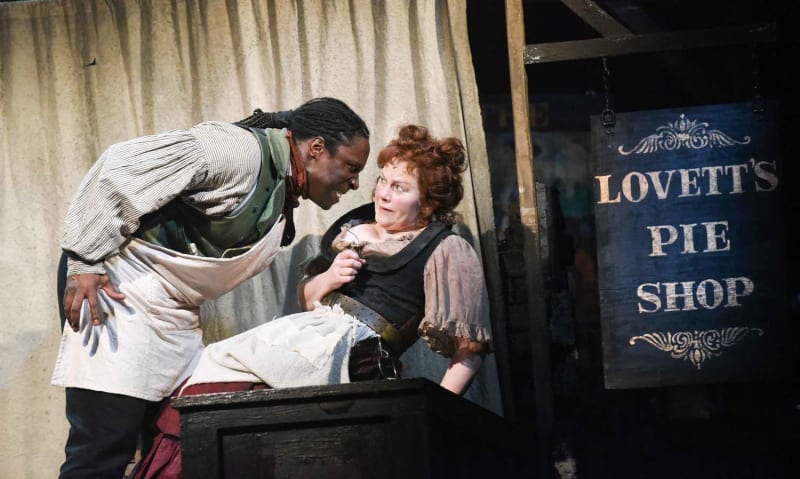 There are some people who could claim there is a curse on Stephen Sondheim's musical about the demon barber of Fleet Street when it plays in Derby. The week Sweeney Todd was due to be performed at the old Derby Playhouse in 2012, lead actor James Smillie pulled out for personal reasons and Australian Lyndon Terracini had to deputise.
Just before the current production began, the revolving stage developed a mechanical problem, meaning that three previews had to be called off. Thankfully, this was only a temporary setback.
Compare it to sitting in a top restaurant waiting for your meal to arrive. When it eventually appears it is a feast to be savoured; this Sweeney Todd deserves the equivalent of a Michelin award.
For starters, there is a terrific ensemble whose considerable talents deal with Sondheim's complex and heavily structured score.
Then comes the main course, Hugh Maynard as a deeply-troubled Todd and Sophie-Louise Dann as a charmingly blinkered Mrs Lovett. She gives a new meaning to shepherd's pie in her quest for love; she is so desperate that she is prepared to overlook Todd's serial killing.
For afters, there is the sight of bodies littering the stage before the cast return to reprise the title song; it sticks in the brain long after the performance has finished.
Much has been made of the fact that Maynard is the first black actor to play Sweeney Todd in the UK. In a British Theatre Guide podcast episode, he admitted he felt that put extra responsibility on him.
He should not have worried. The youngest person to have played the role of John in Miss Saigon, he is a baritone with a sumptuous, opulent voice which perfectly suits the role of Sweeney Todd, the man who could never forgive being sent to Australia for 15 years on trumped-up charges. His acting is exemplary as Todd retains the audience's sympathy for his plight as his mental collapse leads to increasingly gory acts.
Sophie-Louise Dann was nominated for an Olivier Award for best supporting role in a musical for Lend Me a Tenor in 2012. She deserves an accolade for her portrayal of Mrs Lovett, at times enchanting, often endearing and ultimately selfish but only because of her reckless love for Todd. Her extensive range of facial expressions is a joy.
There are some excellent performances among the cast of ten which is supplemented by a community ensemble of four.
David Durham is a commendable Turpin, the corrupt, evil judge. His infatuation with Todd's daughter Johanna who becomes his ward and who he intends to marry is creepingly realistic.
Simon Shorten shines as Signor Pirelli, the flamboyant haircutter, barber and toothpuller who is no match for Todd; Jack Wilcox is the epitome of goodness as sailor Anthony Hope who rescued Todd at sea; and Christina Bennington is delightful as the compliant Johanna who eventually reveals a steely edge.
Daniel Buckroyd has wanted to direct Sweeney Todd for years and tells the tale with aplomb. He gets the most out of the actors and allows musical director Michael Haslam to bring out the intricacies of Sondheim's work.
Set and costume designer Sara Parks presents a dark, depressing Victorian London, cleverly depicting all the locations from Judge Turpin's house to Mrs Lovett's pie shop and the barber's above it.
Some people may not have the appetite to sit through more than two-and-a-half hours of Sondheim. But this version of Sweeney Todd: The Demon Barber of Fleet Street should be to most people's taste. The cast nail it—although that may be described as inappropriate, considering what was found in one of Mrs Lovett's pies.
Reviewer: Steve Orme