Sweeney Todd - The Demon Barber of Fleet Street
Music & Lyrics by Stephen Sondheim; Book by Hugh Wheeler
Union Theatre, Southwark
(2008)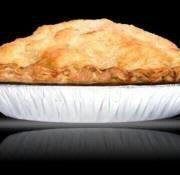 The Union Theatre with its exposed brick work, the musty smell of damp and trains intermittently running overhead is the perfect setting for Steven Sondheim's musical Sweeney Todd - The Demon Barber of Fleet Street.
After twenty years imprisonment for a crime he didn't commit, Benjamin Barker (Christopher Howell) travels back to London to discover he has lost his wife and daughter. He returns to his former profession as a barber (under the new name of Sweeney Todd) with the help of local pie shop owner Mrs Lovett (Emma Francis). Sweeney quickly re-discovers his passion for shaving and gives the folk of Fleet Street the closest shaves of their lives - which has a surprising impact on Mrs Lovett's pie shop.
As the production follows in the footsteps of Tim Burton's lavish film production staring Jonny Depp and Helena Bonham-Carter, it is impossible to avoid comparisons. With probably a millionth of Burton's budget, the Union Theatre's production of Sweeney Todd does not disappoint.
Sweeney Todd is arguably Sondheim's most challenging and complicated score with its multiple harmonies, twisting and turning in unexpected directions. Musical director Christopher Mundy, with only two pianos, handles this mammoth task with skilful ease.
Taking advantage of the space and its natural dinginess, the set is minimal with lighting indicating the changes in space and time and candles illuminating the actor's faces.
Sasha Regan's subtle, understated direction allows the chilling story of Sweeney Todd and his murderous appetite to be told without becoming farcical.
Howell as Sweeney gives an unnerving performance as his penchant for killing develops, whilst his rich and powerful vocals portray the pain and suffering of this broken man. Francis, the seductive Mrs Lovett, provides a great contrast to the sombre Sweeney with her witty sarcasm and there is a fiery chemistry between the pair, aroused by their killing spree.
Supported by a strong cast and a hilarious cameo from Nigel Pilkington as the ever so camp Beadle Bamford, this production of Sweeney Todd is comparable to any West End musical. Certainly not your typical run up to Christmas show, it is well worth a visit, although I'd probably give their pies a miss.
Running to 6th December
Reviewer: Rachel Sheridan