Sweet 'n' Sticky / The Young Man, the Old Woman and the Roof
Joanna Rimmer / Peter Mortimer
Cloud 9
The Low Lights, North Shields
–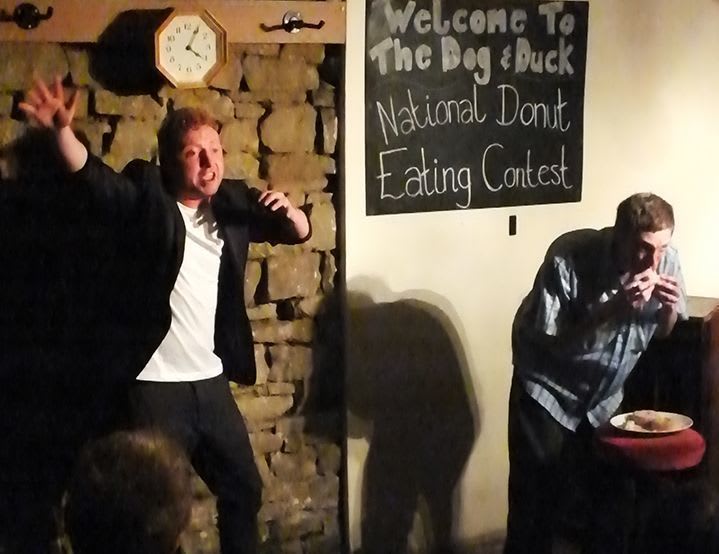 Cloud 9's eighth production at The Low Lights Tavern in North Shields breaks with the tradition established by the previous shows. In them, the play for the evening was preceded by 20 minutes of music from local performers but this show is a double bill of short (20-minute) plays.
In recent months, the company has run a programme of theatre writing workshops and the first play in this double bill, Sweet 'n' Sticky, is by one of the participants, Joanna Rimmer. It's a comedy about a doughnut eating competition and is performed by a company of three: regulars Robbie Lee Hurst and Dylan Mortimer who are joined by Arabella Arnott.
It's a light comedy about a couple hoping to better their financial situation by the husband (Danny, played by Hurst) winning a doughnut eating contest at a local pub. It turns out that Feankie (Mortimer), the organiser of the contest—who, it appears, organises similar competitions all around the country—was a boyfriend of the wife Debs (Arnott) at school and clearly fancies his chances of a (short-lived) resumption of that relationship.
It's a simple story brought to life by the energetic playing of the cast and Neil Armstrong's fast-paced direction ensures that laugh follows laugh in rapid succession.
Peter Mortimer's The Young Man, the Old Woman and the Roof is a two-hander, featuring Arnott and Mortimer, and is quite different from his other plays in the Low Lights series, all of which were surreal and absurdist in the traditions of N F Simpson and Ionesco.
This is a more conventional comedy in which a door-to-door roofer (Mortimer) tries to con an old woman (Arnott) out of all the money in the house to fix the loose slates he has "noticed" on the roof. It is obvious that she is playing dumb and has quite clearly spotted the con but the ending is hilariously unexpected, which, combined with the almost manic energy and speed of the direction and performances, left the audience roaring with laughter.
Cloud 9 has established an enthusiastic audience at the Low Lights and this double bill does not disappoint them.
At the Low Lights until 14 July, then at the Surf Cafe, Tynemouth, on 17 and the Under the Dome Festival, Whitley Bay, from 18 to 20 July.
Reviewer: Peter Lathan