Sweet Cider
Emteaz Hussain
Tamasha
Arcola Theatre
(2008)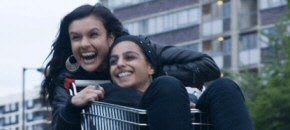 Set in a park in a Northern British town among its benches, walks and bushes and the swings, slide and roundabout of a children's playground this remarkable first play from Emteaz Hussain had its world premier at Dalston's Arcola Theatre this week.
An elderly Pakistan lady seems to have installed herself there. In fact she goes home to sleep in sheltered housing but here she feels more comfortable and she has become a sort of genius loci of the place and, for the younger Pakistanis who come there, a reminder of the culture and traditions they come from. Into this tranquillity, after a night on the town, burst two young women: Tazeem, who is pushing a supermarket trolley, and Nosheen who is riding in it and wearing a scarf around her head. It turns out that this improvised hijab is not worn for religious reasons but rather perhaps because it helps to give her a sense of her own identity for both girls are living in a hostel, a refuge for women who have fled their families. Tazeen finds a job and gets herself a flat but Nosheen can't take the risk of being so public: her family are trying to track her down.
This is not the high drama of young women being hunted by families thinking they have been shamed and set on murder to remove it, but nevertheless they are escaping from a family and an environment that they find oppressive. The young Pakistani men who come here may not live under such strict family control but they too feel the constraint upon their lives, as does the white boy who is in love with one of them, though that may not stop a certain callousness in their behaviour. Then there are the families who have lost a daughter, and we see something of their pain and anger too.
Hussain does not give us complete histories. We glimpse only some of the details of the lives of a group of young people, but she presents them with a truth and sensitivity that makes us feel we know them and in Kristine Landon-Smith's production the whole cast give them a reality that makes one wish this was a longer work than the hour it plays. Even the dog (which never quite makes it onstage) that belongs to the man paid to seek and bring back Nosh seems to be there, yet this is not a 'naturalistic' production. Its short scenes are strategically constructed and shaped for theatrical effect. There is a wonderful moment when a snatch of Western pop is turned by the boys singing it into an Asian rhythm and then taken up by the elderly park lady to become a classic Pakistani song to which she dances - music provides important atmosphere at many moments in the play.
These aren't idealised people. The boys don't treat the girls well; these British Pakistanis are racist about white Britons and intolerant of deviance from their own mores. They are all trying to find a place for themselves in the world: a safe place, a safe person. The park lady finds it among the grass and flowers, the hunter sent in search of Nosheen finds it with his dog, but the disappointments along the way could have tragic consequences.
Sue Mayes' set, with painted screens of walls and park perimeters marking a series of different locations around the central playground looks lovely and works well but it has one disadvantage. The theatre space has been divided diagonally, half audience, half playing space and this has made the acting area extremely wide and seems not to have helped the acoustics. I and my companion, while able to hear the actors, found much of the dialogue difficult to catch clearly, and it was already something of a challenge with a scattering of words in Pakistani languages and heavy Manchester and Asian accents. Humour made this particularly noticeable when one side of the audience was laughing and the other was not - and it wasn't just with phrases not in English, so this was a spatial, not an ethnic difference. Perhaps after a few nights playing in the space the actors will be able to overcome that problem, but the fact that nevertheless the play came over so well is a tribute to the playing of the whole cast - and I name them all for this is very much ensemble playing: congratulations Shammi Aulakh, Sudha Bhuchar, Taru Devani, Hamza Jeetooa, Thomas Morrison, Aria Prasad, Sagar Radia, Rehan Sheikh, Rajneet Sidhu and Stephanie Street.
Until 15th November 2008
Reviewer: Howard Loxton