Snow White and the Seven Dwarfs
Produced, written and directed by Paul Hendy
Yvonne Arnaud Theatre, Guildford
(2006)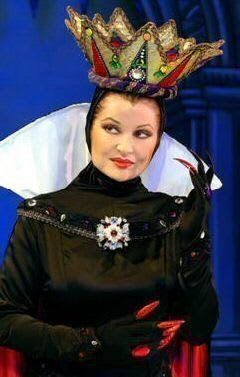 If you have been avoiding pantomime for some years thinking that the jokes have become smutty and the slapstick just too silly for words, then this is the one to bring you back into the fold. Hendy and his co-producer wife Emily are "determined to make this production the funniest and most spectacular Guildford has ever seen" and they've done it again. From the opening rendition of "The best of times is now" to the closing with the same song, they didn't put a foot wrong, hitting just the right note with every sketch – entertaining the children, who of course thoroughly enjoy themselves yelling their responses, but with plenty of quick witty dialogue to entertain the adults, and with a few topical references thrown in.
Versatile Paul Hendy (playing Muddles as well as well as writing, producing and directing) has such a warm and friendly personality that the audience take to him immediately – so much so that one determined young lady (aged about three) evaded her mother's clutches to clamber up on stage and unselfconsciously brought the house down with her innocent imperious command of the situation – Muddles just about managing to keep control.
Stephanie Beacham, in her first pantomime, is a very glamorous Wicked Queen, adorned with some very spectacular outfits and cruel six inch long finger nails. Boos and hisses from the audience had her stalking off stage in a huff with the dismissive "I don't think we're going to get along" and when looking for poison to dispose of Snow White .."Where did I put President Putin's 'phone number?"
This being the Guildford pantomime it is, as usual, just like a big family party here to enjoy themselves, with most of the cast coming from the excellent Guildford School of Acting and providing the slick and intricate song and dance numbers expertly choreographed by Gerry Tebbit (as usual), with terrific sets and costumes by Helga Wood (as usual), and the children from the GSA Saturday School performing with confidence and expertise (as .) well – you see what I mean. Everyone keeps coming back, including the audience knowing from past experience that they are in for a festive treat guaranteed to take their minds off the Christmas Shopping Frenzy.
Royce Mills is back too - not as a Dame this time but as Herman who "hates being a Horrid Henchman" and Harriet Shore (who graduated only last year and went straight into a lead role in Carousel at Chichester) is an adorable Snow White, lost in the haunted forest with scary creatures all around her, but help is at hand. Six little people come "Hi Ho ing" down the aisle on their way to work and here are the dwarfs – and what fun they are! Six? – you say? Well of course 'Loopy' is late and comes rushing along at the last moment and immediately becomes the star of the show with his antics. Jack Goffe with brother Ben and father Rusty are the chief three of this comically entertaining troupe and Loopy was far and away the favourite of my two young guests.
Bonnie Prince Charming (David McGranaghan in his third year at the GSA) wears his kilt to the manner born, which he would do being a true Scot. The same cannot be said for Hendy and Royce Mills, but their attire made the well known and well loved interpretation of the appearance of the ghosts all the funnier, and brought the comment from Muddles, "You just couldn't resist a skirt".
This is one hugely enjoyable traditional family pantomime – entertaining, spectacular and hilarious – don't miss it!
Running until 7th Janury
This review was first published in Theatreworld Internet Magazine.
Reviewer: Sheila Connor