Sydney & the Old Girl
Eugene O'Hare
Park Theatre
Park Theatre (Park 200)
–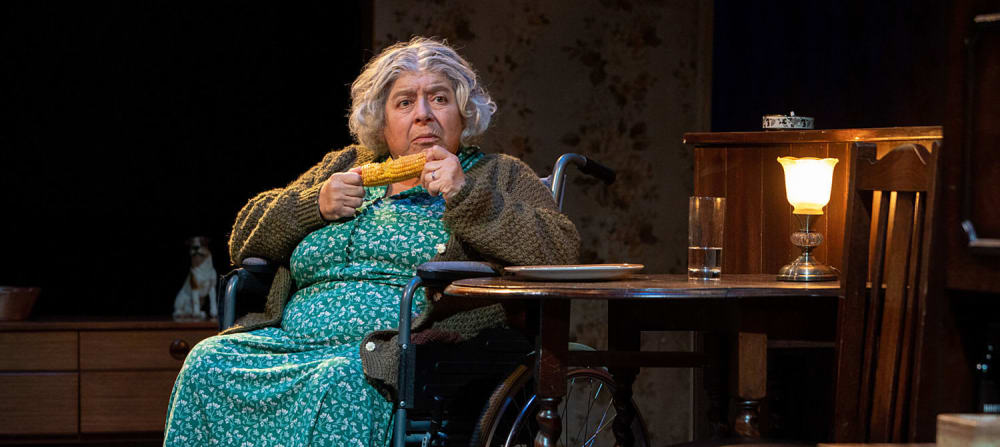 Eugene O'Hare, whose The Weatherman about people trafficking for the sex trade played at this theatre in August, follows with this study of the relationship between Nell (Miriam Margolyes), who is nearly eighty and not in good shape, and her son Sydney (Mark Hadfield), in his fifties.
Sydney lives with his mother, though he claims he still has his own place. It seems more likely that his landlord has kicked him out, probably long ago, and he is back in the East End flat where he has spent most of his life.
This is a dysfunctional household, a tumble dryer out the back that doesn't tumble and a telly in bits spread over the carpet that Sydney is expected to get working. The mother-son relationship functions as continuing conflict, based more on mutual loathing than familial affection. This is a home where life seems to be an unending vituperative argument, though Nell becomes quite sweet tempered when her carer Marion makes her thrice-weekly visits and Sydney smartens himself up with a clean shirt and a tie.
There is already a laugh three lines into this play and quite a few more as it progresses but it isn't a comedy, not even a black one. It is a picture of a soured relationship that has echoes of Beckett and Pinteresque threat. Sydney seems paranoid: intimidated by the people speaking with alien accents or in foreign languages, which is all that he hears when he goes out, and going berserk at the sound of an ambulance, fire engine or police siren. That particular phobia seems to be linked to what happened to a younger brother with Down's Syndrome, but that may not be the only ghost of the past that is haunting them.
It is mystery what Sydney gets up to when he goes out (does he really just sit in the pub talking to nobody?) and you can't help but wonder what he has in the red holdall he always takes with him.
While Sydney looks forward to inheriting the family home, Nell is determined that he won't be in her will and calls on her carer to help with that. But is Marion to be trusted? Vivian Parry's talkative Irish carer's devotion to her duties may not be as altruistic as it seems.
Director Philip Breen's lively production can't quite disguise the fact that this is largely a foul-mouthed slanging match with a mere wisp of a plot. It could do with a few judicious cuts, but O'Hare has provided a picture writ large of people trapped by circumstance and the ties of family and created roles that actors can get their teeth into.
These actors certainly do that. Sydney and his mother may not be nice people but in these hands they are mesmerizingly watchable. Mark Hadfield's splenetic Sydney, a homophobe and racist, seems to carry a terrible hurt in him while Miriam Margolyes's scathing Nell hides some great guilt; just watch the changing emotions that flicker on her face: it's a lovely performance.
This is a great opportunity to see Margolyes live being very different from the personality publicly seen in television documentaries but still bursting with energy that communicates directly to everyone in the audience.
Reviewer: Howard Loxton