Sylvia

The Royal Ballet
Royal Opera House
–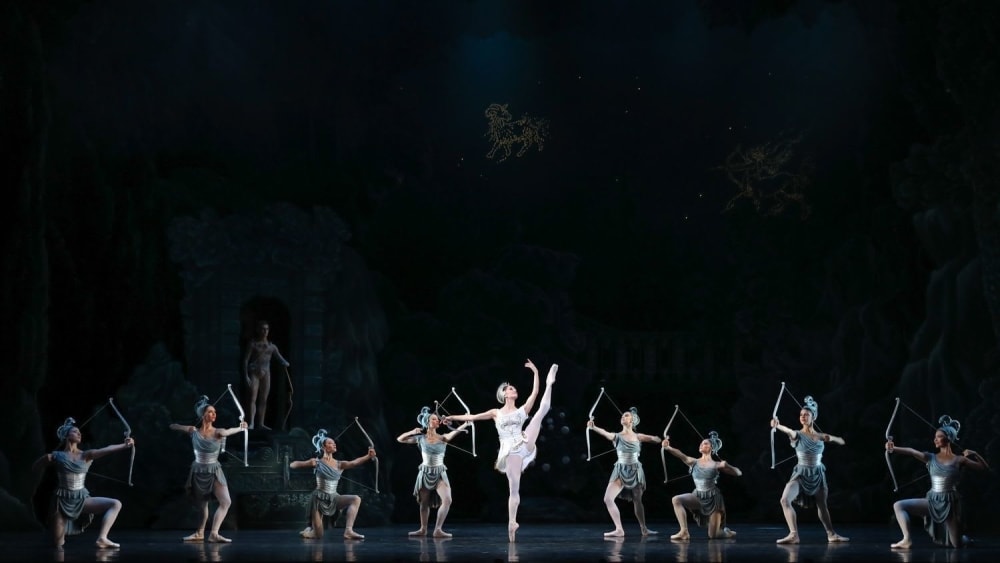 In 2004, to celebrate the Centenary of Frederick Ashton's birth, Monica Mason, then Director, commissioned Christopher Newton to revive their Founding Choreographer's full-length mythological work Sylvia, which was close to being completely lost from the repertoire. Using French composer Léo Delibes' 1876 score, Ashton choreographed the female-dominant ballet in 1952 "to showcase the talents of Margot Fonteyn", who danced the title role.
Conducted by Hamburg Ballet's Simon Hewett, Lauren Cuthbertson, who next year will celebrate a decade as Principal with The Royal Ballet, plays Sylvia, nymph of Huntress Diana, Goddess of Chastity (First Soloist Helen Crawford). Promised to renounce her love, Sylvia draws her bow at Aminta, a Shepherd, danced by Soloist Reece Clarke, but simultaneously receives an arrow from Eros, the God of Love, portrayed by First Artist David Donnelly.
Orion, the evil Hunter (Principal Nehemiah Kish) is determined to possess Sylvia, so kidnaps her to his island cave in act II, recreated by the late Peter Farmer, following the loss of the original designs. In this short comedic middle act, Sylvia evades Orion's unwelcome advances by encouraging him to drink, whilst she frolics around. Sylvia is then rescued by Eros, who shows her the vision of Aminta, and Sylvia and Aminta are united in the exultant spectacle of act III. This final act is set at the sea coast, near the temple of Diana, which like act I, uses Ashton's original designs by brothers Christopher and Robin Ironside.
Cuthbertson's delectable stage presence and ease within the role glistens throughout, not to mention during the famous pizzicato divertissement: her daring one-legged leaps into the mighty arms of Soloist Reece Clarke who then sweeps Cuthbertson into a fish dive, leaving the audience in awe. During his solo, Clarke bounds effortlessly en manège, full of crisp technique and physicality.
It is this closing act which showcases the company's vast and youthful corps de ballet, depicting attendants, naiads, dryads, sylvans, fauns and peasants. Bursting with activity, every rank of dancer takes to the stage, including a growing number of Aub Jebsen Young Dancer apprentices. Most enchanting are the duet pairs, Ceres and Jaseion (First Artist Gina Storm-Jensen with Soloist Nicol Edmonds), Persephone and Pluton (Mayara Magri with fellow Soloist William Bracewell) and Terpsichore and Apollo (Soloist Fumi Kaneko with Artist Teo Dubreuil).
Sylvia is an audience pleasing choice. Ashton's lattice-like footwork, coupled with self-confident épaulement is joyful and stylish, yet simple, echoing the finite technical capability of the time, indeed by Fonteyn herself. Repetitive motifs, such as the circular port de bras in the centre, are today more akin to an exam syllabus than a staged work, yet moments of Ashton's choreography can still be recognised in many youth ballets—an inspiration.
Reviewer: Naomi Cockshutt