Taking Steps
Alan Ayckbourn
Oldham Coliseum
Grange Arts Centre, Oldham
–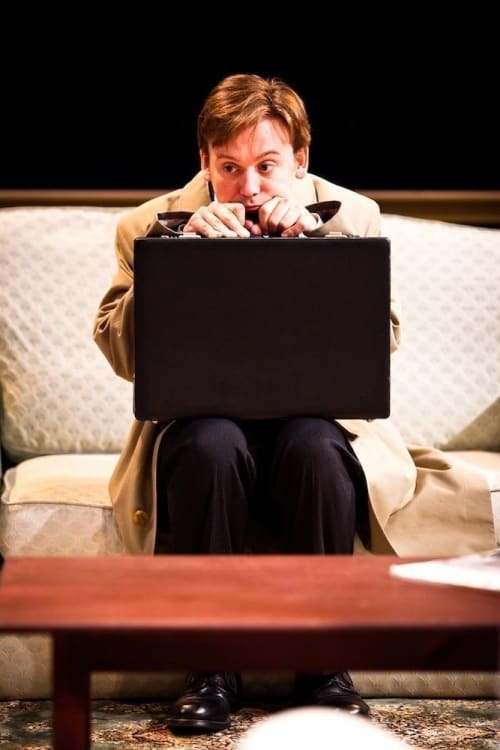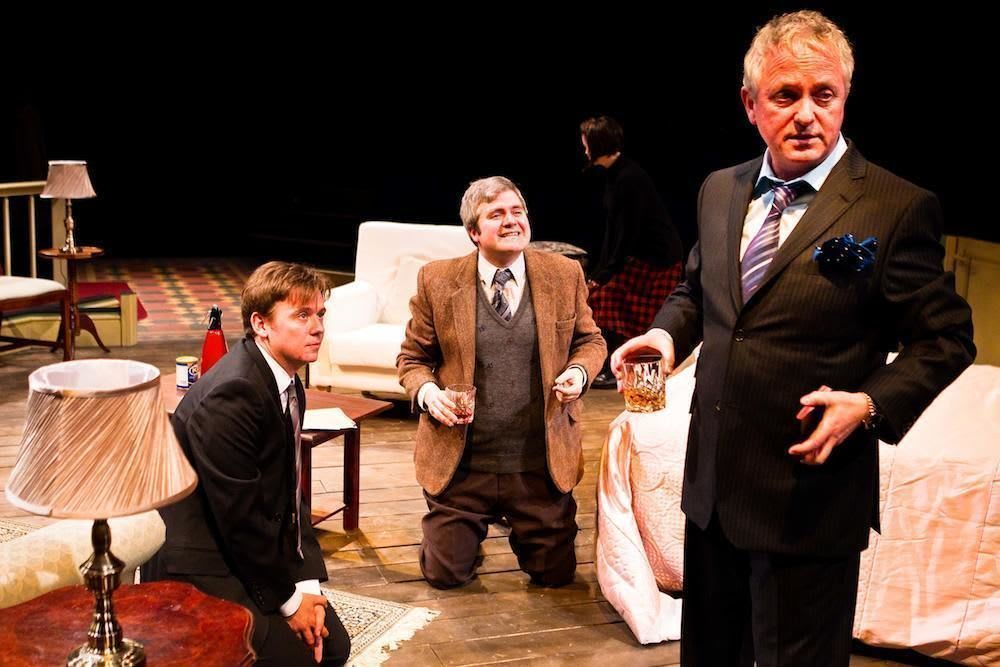 As the workmen move into Oldham Coliseum, the company moves out on the road, starting with a production of Alan Ayckbourn's Taking Steps directed by Robin Herford who played Mark in the original Stephen Joseph Theatre production that toured to this same venue in 1980.
While many productions of Ayckbourn are squashed into box sets and pushed behind proscenium arches, Herford's production at the Grange recreates the in-the-round stage configuration of the theatre that Ayckbourn ran for many years in Scarborough. This solves a lot of technical issues with this play which is as experimental with the way it puts across the story as any of Ayckbourn's plays.
The particular quirk of Taking Steps is that it is set on three different floors of a house but the main rooms of all three floors are represented in the same stage space with furniture from each within the same four cutaway walls. Thus when someone is jumping around in the bedroom, someone in the lounge looks up towards the noise even though the perpetrator is stood beside him. It seems confusing when described, but it is surprising how well it works when the actors get it right.
Confident, successful bucket manufacturer Roland is about to buy the house he is leasing from Leslie who is desperate for the money before he goes bankrupt, but Roland doesn't know that his wife Elizabeth, whose belief in her dancing ability isn't shared by anyone else, is plotting with her brother Mark to leave him and go back to a career in professional dance. Mark is having problems with his wayward—and apparently reluctant—fiancée Kitty, not helped by the fact that anyone he talks to tends to drop off to sleep. Into this mix comes Tristram, a junior partner sent by Roland's solicitors to finalise the property deal, who has great trouble stringing a sentence together.
There is much about the play that is typical bedroom farce material, but many of the characters are pure Ayckbourn. It is hard to tell whether it is down to the play or the production, but it never achieves the breakkneck pace of a true farce and at times unfolds rather slowly. That's not to say that it isn't funny, as there are many scenes that work very well to bring out the laughs. It isn't a play that says anything profound or enlightening, but there are plenty of funny moments.
The playwright has given each character a quirk for the actor to work with, some of which are incorporated into the performances more convincingly than others. The actor that stands out as being most successful is Antony Eden as lawyer Tristram who has some very difficult stuttering dialogue that comes across as perfectly believable for the character he has created and he gets a lot of humour out of his situations. Ben Porter, however, while he does get across the tediousness of Mark comes across more as someone putting on a comic voice and character, and while he gets many of the broader laughs he misses some of the subtler ones.
Roland is the typical Ayckbourn brash, arrogant businessman, which John McAndrew plays perfectly well. Jackie Morrison is fine as Elizabeth whose truly awful dancing almost literally brings the house down, and Martin Miller is suitably pathetic as Leslie. Maeve Larkin as Kitty is silent for most of the time she is on stage but is totally believable throughout.
The Coliseum has made a smooth transition to the Grange and dressed it up to look like its natural home. The inaugural production of its short residency there is a little uneven this early in the run but at its best is very entertaining and worth seeing to experience Ayckbourn in his proper in-the-round setting.
Reviewer: David Chadderton