Taking Steps
Alan Ayckbourn
Stephen Joseph Theatre Company
Stephen Joseph Theatre, Scarborough
–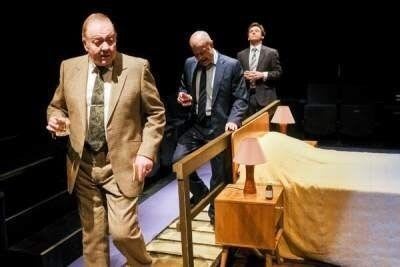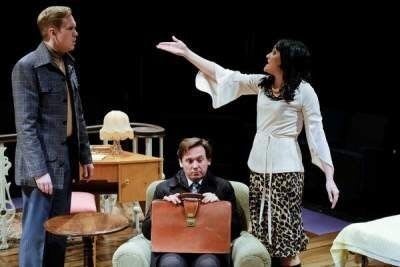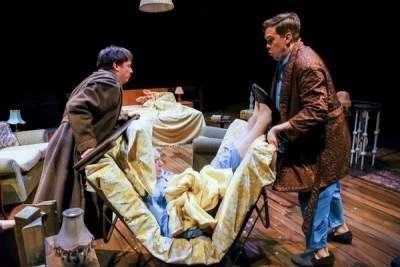 It's not uncommon to see the words "Alan Ayckbourn" and "farce" included in the same sentence, but as far as Britain's most popular living playwright is concerned only one of his plays fits into this category: Taking Steps (1979).
In Britain, the term "farce" has become inextricably linked to the sex comedies that became so popular during the 1950s and '60s, in which a gallery of middle-class nitwits attempt to conduct extra-marital affairs in the face of escalating chaos. Taking Steps is mercifully free of the cringe-worthy innuendo that blights many of these plays, but its plot is suitably preposterous and far-fetched.
Ayckbourn is rightly praised for the way he plays with time and space in his plays. In Taking Steps, he takes the three floors of a Victorian house and superimposes them on each other, meaning that we can watch action unfurl simultaneously in different parts of the house (lounge, bedroom and attic). He uses a similar device in an earlier play, How the Other Half Loves (1972), by overlapping the living rooms of two separate households.
Taking Steps opens with professional dancer Elizabeth (Louise Shuttleworth) confiding in her tiresome brother, Mark (Laurence Pears), that she intends to leave her bucket magnate husband, Roland (Russell Dixon), after three months of marriage. She wants Mark to comfort Roland after he reads her goodbye letter, but Mark is preoccupied with thoughts of his former fiancée, Kitty (Laura Matthews).
Roland doesn't notice his wife's letter at first because he's in the middle of purchasing the house from Lesley (Leigh Symonds) with the assistance of Tristram (Antony Eden), his nervous, linguistically challenged solicitor. I won't elaborate any further on the plot, except to say that the characters become entangled in a series of mix-ups and misunderstandings, resulting in comic pandemonium.
Ayckbourn regards Taking Steps as one of his silliest, most light-hearted plays, and I agree wholeheartedly with his assessment. Unlike Henceforward… (1987), for example, which was staged at the Stephen Joseph Theatre last year, there is no underlying darkness in Taking Steps. You could make a case for it being about female emancipation—both Elizabeth and Kitty wish to escape from domineering men—but this feels like a stretch.
The play benefits hugely from a talented cast, many of whom have acted in other Ayckbourn productions. Antony Eden delights as the permanently bewildered Tristram, mining comedic gold from the character's inarticulacy. Equally impressive is Russell Dixon, who captures the character's mixture of conceit and vulnerability.
There is also fine support from Laurence Pears, Leigh Symonds and Louise Shuttleworth. It's a shame that Laura Matthews—so terrific in last year's production of Henceforward…—is not given more to do as Kitty, but at least she gets a chance to shine towards the end of the play.
This is a play with a single aim, to make you laugh, and once the play kicks into gear the laughs come thick and fast. Ayckbourn is a master of theatrical space and his decision to stage the three floors on a single plane results in some striking comic juxtapositions.
Reviewer: James Ballands