Tales from Hans Christian Andersen
Adapted by Ant Stones with original music and lyrics by Tom Jack Merivale
Guildford Shakespeare Company
St Nicolas' Church, Guildford
–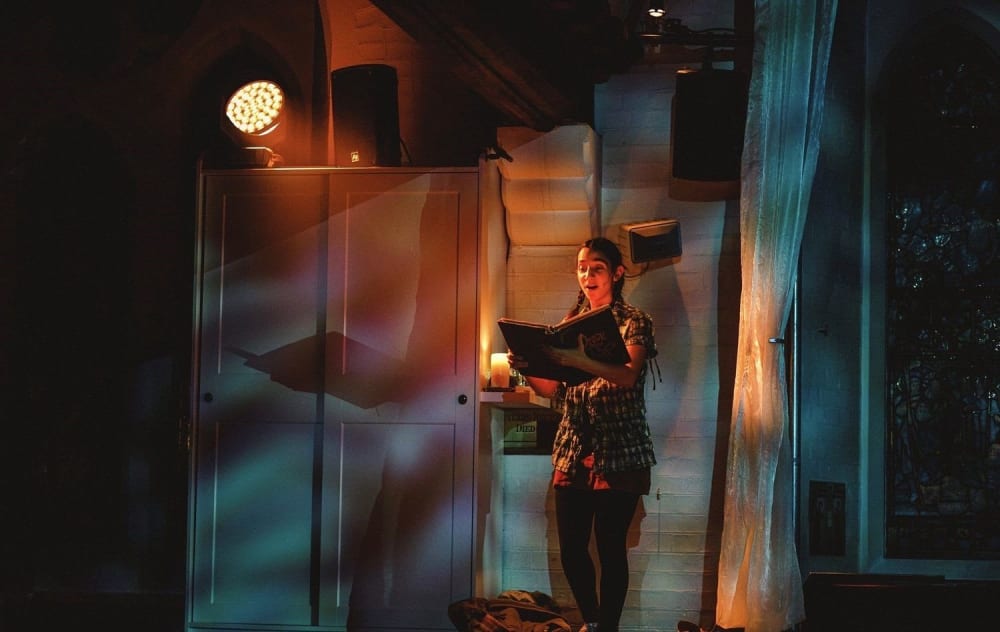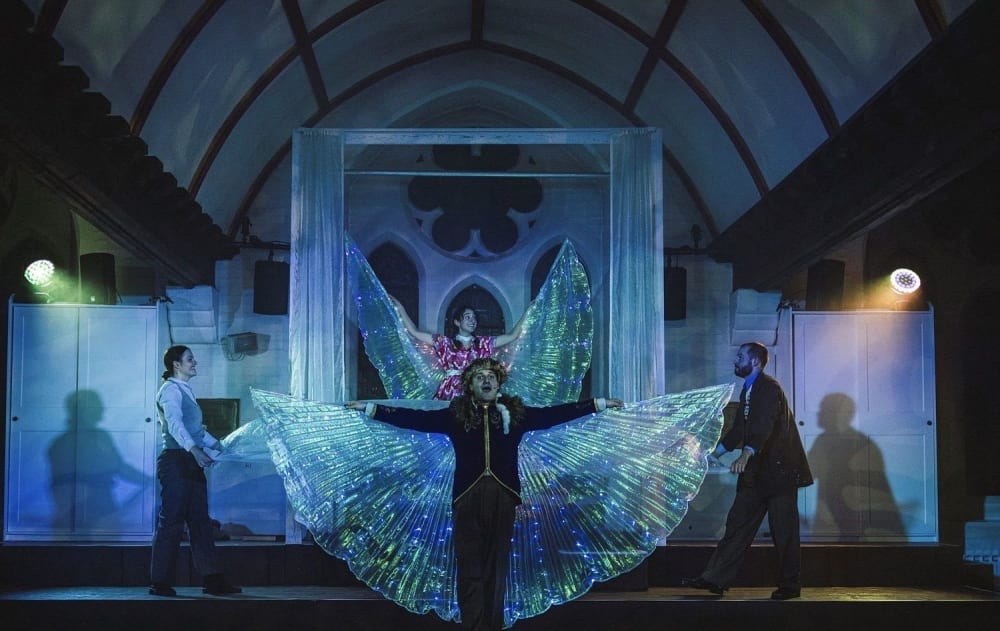 Still with COVID very much in mind, the company has spaced out the seating, provided hand sanitisers and encouraged mask wearing (most people complied) while the large airy church gives plenty of ventilation but remains pleasantly warm. It all felt comfortable and much safer than most other indoor venues.
The show begins in the real world where a young homeless girl (Sara Hazemi) has sought refuge in the church. All she has is her backpack and a book entitled Once upon a Time and she is desperately cold, but finding a box of matches and, with the help of a workman (James Camp) coming to mend a broken window, she finds that even the flame from a match can bring warmth and light into life and, reading from the book, the magic begins.
This company never ceases to amaze and they have created a show which comes from the heart and is full of joy, enthusiasm, boundless energy and a great big spoonful of magic. Tom Jack Merivale has perfectly, and brilliantly, caught the soul of each of the seven tales presented here with his exquisitely beautiful music and lyrics enhancing and emphasising the spirit and meaning of each one, with the four—yes, only four—equally amazing actors obviously thoroughly enjoying every one of their many and very varied roles. (Jonathan Oldfield and Annabelle Terry complete the cast).
A tremendous amount of care, thought, creativity and innovation has gone into every aspect of this production. As well as some very imaginative and varied exotic costumes, Neil Irish has created a three-level, very wide spaced set, mostly white, but keeping the stained glass windows at the back which sometimes give their own glow as Mark Dymock's perfectly timed lighting takes effect, and the stage has quite a few clever surprises in its construction.
Each tale has a moral but is presented lightheartedly and with plenty of laughter too—the ducklings hatching from the eggs, the old deaf Cock and Hen, constantly mis-hearing conversation, and the entrance of three top-hatted gentlemen swans, complete with canes, all add to the enjoyment.
A rather wimpish prince does a lot of galloping in search of a real princess, who turns out to be a hale and hearty, feisty girl ready for a fight if necessary. It's surprising that she felt the pea under all those mattresses. The king and queen in this tale are quite mad and excessively flamboyant to the point of silliness—but isn't this what it's all about? These actors certainly know how to show the audience exactly what their characters are feeling, and they all have beautiful singing voices, which really is rather useful in a musical.
A new one for me is The Puppet Showman, a very cleverly contrived scene as the puppets come to life and their 'master' is swept away before being squashed into a suitcase, and The Darning Needle is also a new one, very full of itself and much too delicate to do any heavy work.
The weavers were absolutely delighted with themselves in The Emperor's New Clothes, a tale which had the audience holding its collective breath waiting for this vain, important man to appear. I will say no more!
After her scary adventures with giant toads and a grumpy mole, Thumbelina completes the tales beautifully, lyrically and with feeling—and then we are back to the real world, but the magic of Charlotte Conquest's production will stay with us for a very long time.
Reviewer: Sheila Connor