Tales From The Tent
Judy Seal
Dolphin School Theatre Company
Greenside @ Nicolson Square
–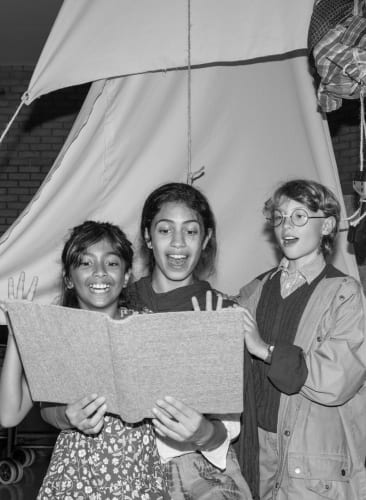 The plight of refugees and asylum seekers is given a refreshing twist by the talented youngsters from the Dolphin School Theatre Company's Tales from the Tent.
They have worked with refugees and are raising funds for Refugee Relief as well as sending essential supplies to Calais with a personal note from the cast wishing the recipients well.
As a result, their current show, skilfully and beautifully written and directed by Judy Seal, explores the need for the refugees in a transit camp to achieve some form of normality.
They do this by telling stories to raise their spirits and forget the traumas they have experienced.
We are welcomed by the cast as we arrive, a really nice touch, as are the Russian brother and sister who need a safe place to stay following their travels as they seek asylum.
These youngsters are captivating with high-energy confident performances superb ensemble work and strong use of physical theatre.
The stage is littered with detritus, large sails as tents and floating rucksacks; this is a transient world.
So the stories begin. We have the tale of the tortoise and the hare brilliantly portrayed and the little child that's ignored by her stepdad and his wife reminiscent of the old woman who lived in a shoe.
Little Lucy loses her voice in a lovely scene with the voice represented by small lights—superbly inventive.
Then there is the naughty shepherd boy who looks after the sheep, which are joyously played chewing the grass as we learn about the boy who cried wolf.
But this is a cool singing dude of a wolf wearing sunglasses and biding his time to make his attack on the sheep.
There are many touching moments, beautifully realised characters and playful fun that is a joy to watch.
It's told with flair, commitment and much humour and the youngsters have charisma that shines through, especially at ten o'clock in the morning.
The heart-rending ending brings a tear to the eye. The cast thoroughly deserved the long and enthusiastic applause from the audience. Don't miss this one—it's superb.
Reviewer: Robin Strapp