Tamburlaine
Christopher Marlowe
Royal Shakespeare Company
Swan Theatre, Stratford-upon-Avon
–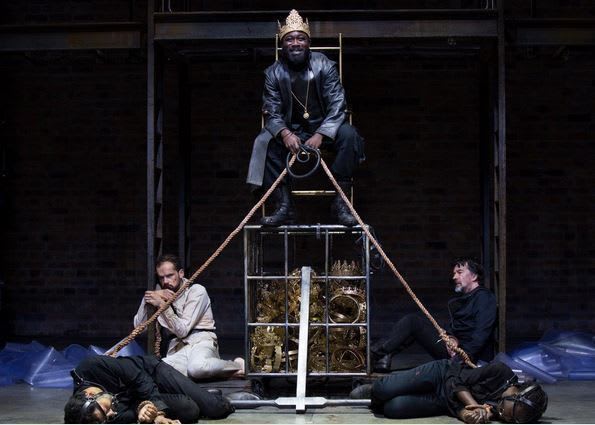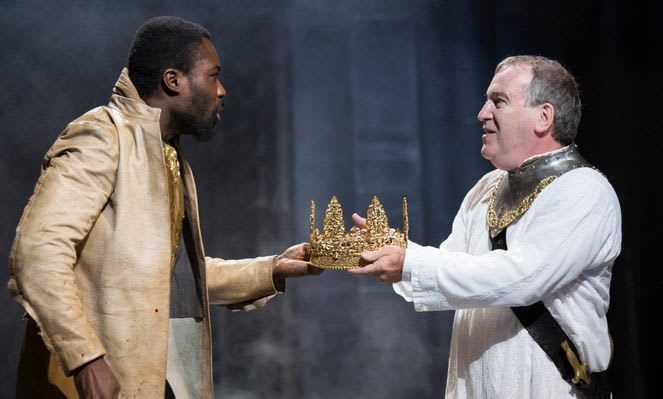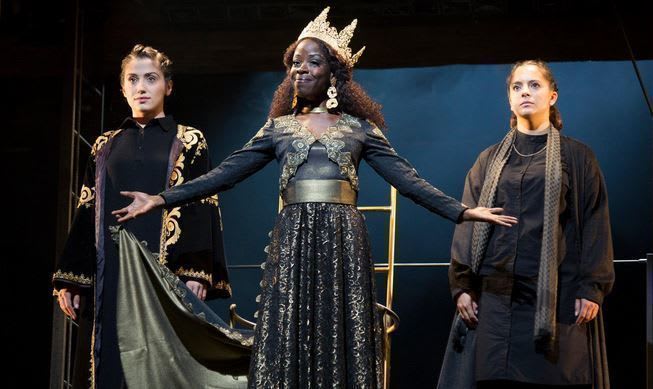 "Blood-soaked" doesn't quite do it. Returning RSC director Michael Boyd ordered buckets of the stuff for this tale of travelling butchery, so much so that it took eight stage hands to clean the boards in the interval—and even then one of the actors slipped.
Yet this is not the gore-fest that description would suggest. Marlowe's play is written in some of the most beautiful blank verse in the English language, an extended improvisation on the nature of violence in those and our restless times, performed here with immense care, clarity and intelligence.
Tamburlaine, once a simple shepherd, storms across three continents, the self-proclaimed scourge of God and terror of the world.
Symbolism is everywhere, both in Marlowe's text and in Boyd's vision of it. An impassive child pours those buckets over the slumping bodies of the dying and, as Tamburlaine's campaign cuts through Iraq and Syria, the scale of capricious sadism increases, the scimitar and cuirass of act one giving place to the Kalashnikov of act two.
Do I detect also a savage contemporary commentary as Tamburlaine's pale-skinned European wife (Rosy McEwen) parades serenely in a spotless gown over the chamber in Damascus in which local hijab-wearing women have been slaughtered?
Marlowe, a brilliant, shadowy figure, thought at the time of his murder to have worked as a government agent, shows a merciless, modern cynicism toward authority and religion, with the excellent David Sturzaker's King of Hungary breaking his Christian oath because it was made with a heathen.
As for Jude Owusu's Tamburlaine, he seems to have little motivation other than to become ruler of the whole earth—and when sickening toward death of Heaven too.
Owusu is fantastic. He has the energy of the wind and his lines snap with the impact of the whip that he cracks while riding on the cage that holds the humiliated Turkish emperor Bajazeth (Sagar Arya).
The diction of almost the entire cast is remarkable, as good as Marlowe's text demands and as good as anything I've heard at the RSC. Arya has a voice to make a battlefield shake and his short confrontation with Owusu was like that of heavyweight boxers. McEwen, Ralph Davis, David Rubin, James Tucker and Anton Cross shared the honours.
Boyd makes no secret of having 20 actors playing 60 parts, even toying with the audience, to the extent that Mark Hadfield, seen already as the clownish King of Persia, announces "yes, now I'm the Soldan of Egypt." Less happy, however, was an unrelated bit of audience comic by-play by another member of the cast, as if to make more a bitter dish more palatable.
The action and dialogue are enhanced by percussion, timed like everything else in this magnificently conceived production to split-second perfection.
Reviewer: Colin Davison