Tam O'Shanter
Robert Burns, adapted by Andy Cannon
Wee Stories
Traverse Theatre, Edinburgh, and touring
(2004)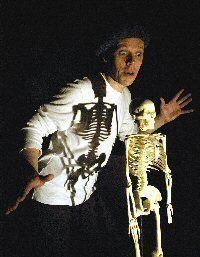 As far as children's theatre goes, Wee Stories' production of Tam O'Shanter gets right to the point of what kids like, with Andy Cannon's opening promise that we're about to hear a spooky story with yucky bits provoking a very positive reaction from the audience members.
The story itself is fairly straightforward, with audiences learning that Robert Burns' Tam O'Shanter is not only Andy's favorite Burns poem, but has also haunted our humble narrator since childhood. On the way to a fancy dress party one Hallowe'en, he learns his old school is being knocked down, and decides to pop by for a quick walk down memory lane.
The strongest parts of Cannon's adaptation are the points in which the poem itself is told - at least, the first time it's told (constant repetition, however, may be used to drill Burns' poem into the minds of the younger members of the audience). The story tends to drag when Cannon relates the circumstances of his old school days, and his music teacher (played by Wendy Weatherby) has a few speeches that could have been of reduced length. But neither of these situations seemed to reduce the enthusiasm of the younger members of the audience, who eagerly volunteered for the final scene in which Cannon had at least six kids join him on stage to act out the scene of Tam O'Shanter in which the title character witnesses the 'hellish legions' dancing in Alloway Kirk.
There are moments during Tam O'Shanter when the spooky atmosphere could have been enhanced, though with the show promoted as being for ages six and over it's possible the company was concerned about scaring younger children. Evelyn Barbour's set design is fluid and multifaceted, which is good, as there are actually three distinct stories taking place during the course of the show - the tale of Tam himself, Andy's journey to his school, and the memories of his time in classes and the visit to Alloway taken by his class in preparation for their Hallowe'en concert, and while Weatherby's acting leaves something to be desired, the music she has composed and plays during the scenes definitely enhances the mood of the production.
If familiar with the legend of Tam O'Shanter, older attendees may find the production a little slow - but as children's theatre, and an introduction to both a good scary story and the poetry of Robert Burns, it's a winning production. Clearly, the members of Wee Stories have great passion for spreading the word of one of Scotland's best-known writers to younger generations, and it's a good bet that many of the children who leave the show will carry with them positive associations of both theatre and Burns' poetry - a good achievement for any children's theatre company to reach.
.
Reviewer: Rachel Lynn Brody