Tangent
Michael Mersea
Waxwing Theatre
New Diorama Theatre
–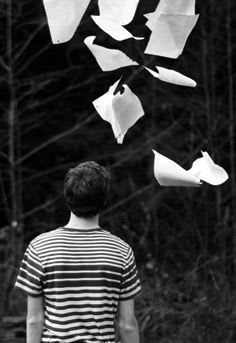 There is a current and welcome vogue extolling the joys of knowledge acquisition and the attractiveness of being brainy. Tangent seemingly taps into this trend via mathematics—a subject that may instil fear in some but that is really worth exploring in this Waxwing Theatre production.
A duel storyline focuses on two fifteen-year-olds (a schoolgirl and a seaman) separated by two centuries of history (she present day, he eighteenth century post-Enlightenment) both anticipating their maths / navigational exams, and both troubled by family issues.
Transitions between classroom and sea are seamless thanks to director Ed Bartram and his team where ingenuity and clever stagecraft allow the boards used as desks to transmute into the planks of a ship, accompanied by movement and sound from the cast of nine who recreate the sounds of the ocean to great effect.
In the present day, Chloe (Maisie Turpie) blames her parents' recent divorce and resultant change of school for her current trigonometry crisis and the scene where she vents her spleen on her mother (Janet Harrison) is impressively acted.
The classroom episodes are particularly strong—funny in an uncomfortable way that will ring bells for anyone who has tried to impress unwilling students and downplay their own zeal for teaching (ever aware that keen pupils will suffer) all cleverly captured in Toby Hughes's weary Mr Rigby, a supply teacher thwarted by class disruption and pedagogical bureaucracy.
Meanwhile, two hundred years earlier and back at sea, our young midshipman (Jolyon Westhorpe) faces tests in plotting navigational points and reading the stars, encouraged by Peter Kenny's Mr Bickerstaff who displays lingual skill of almost Sherlockian dexterity in extolling the poetics of cosmological calculations.
Throughout, the play explores the various meanings of "tangent", thereby revealing a connection between the subjects of words and numbers that are often deemed separate. And, of course, humans go off on tangents, narrowly missing places, people and the perfect angle, whereas the purity of mathematics allows certainty in an uncertain world. A surprising treat.
Reviewer: Anita-Marguerite Butler