Tanika's Journey

Deafinitely Theatre
Southwark Playhouse
–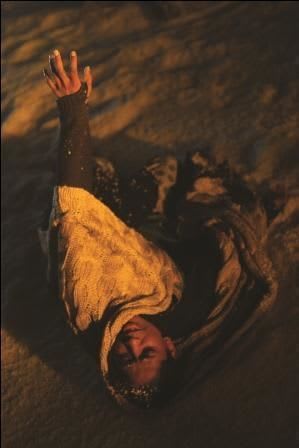 Stepping into the Vault at the Southwark Playhouse, we are instantly transported to the snowy silence of a forest. Haze is thick and bright white lights shine through bare branches of trees, creating the impression of stillness only experienced after the fresh falling of snow. Audiences are seated either side of the traverse stage; the design (Simon Daw) gives the impression of limitless forest extending away from the end of the playing space.
Into this tranquillity emerges a line of weary travellers, almost reminiscent of Pozzo and Lucky in Waiting for Godot; each holding onto a long length of rope. The protagonist of this story, a young deaf girl Tanika (Nadia Nadarajah), collapses onto the ground and the company is forced to stop. Director Paula Garfield describes in the programme her desire to create a story which emerges from a moment of stillness, "based loosely on a journey from Sri Lanka to London".
The result is a visually and aurally stunning production which is tender and imaginative. Using signing, physical theatre and spoken word, Deafinitely Theatre ensures that both deaf and hearing audience members are completely immersed in the story. Through tightly choreographed ensemble scenes and excellent use of minimal props, the small company of performers (Matthew Gurney, Mouna Albakry, Graeme Brookes, Arun Prematilleke), some deaf, some hearing, expertly enact Tanika's journey from a small village in Sri Lanka to the rainy streets of London town.
At times the stillness of scenes feels restless rather than engrossing, but the excellent sound design (Philippa Herrick) and lighting (Ben Rogers) transforms the gloomy vault into an almost magical space. Tanika's Journey is a unique theatrical experience which successfully builds a bridge between deaf and hearing audiences.
Reviewer: Anna Jones