Tank
Written and devised by the company
Breach
Battersea Arts Centre
–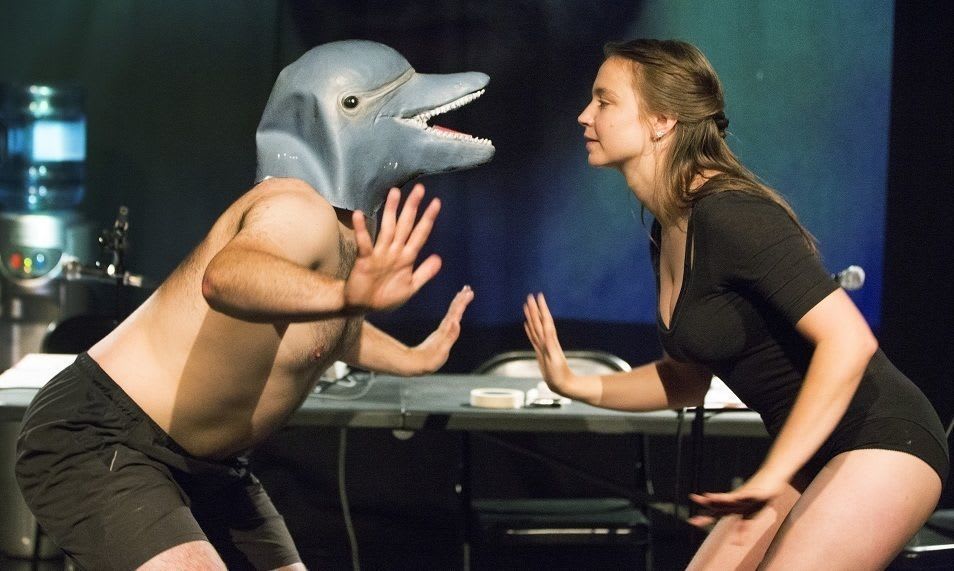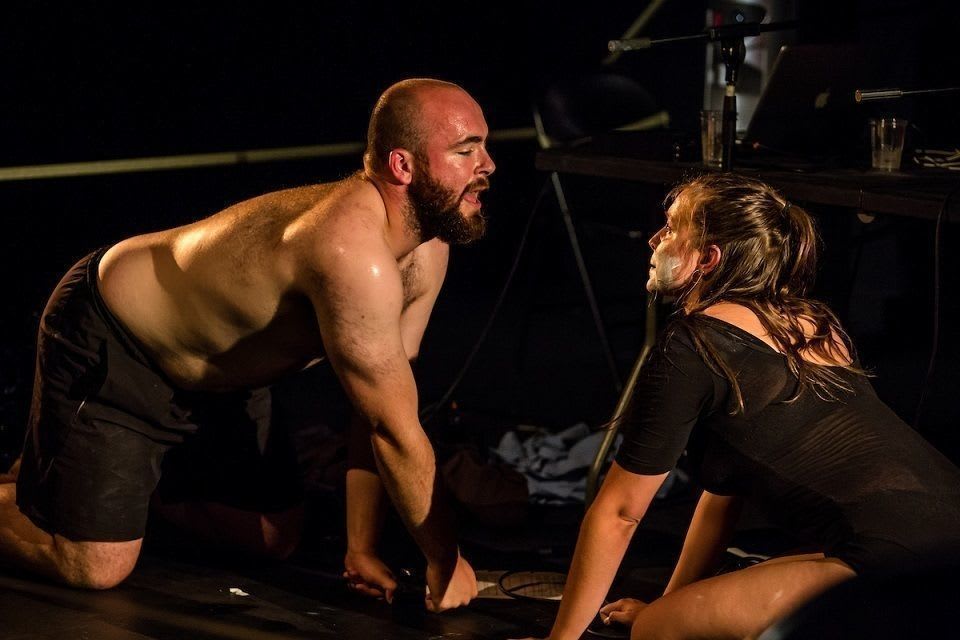 In 1963, John Lilley set up a laboratory on the Caribbean island of St Thomas with funding from NASA and other government agencies to investigate communication with dolphins.
Not long after, Margaret Howe drove out to the lab and persuaded them to let her work on the experiment. She was to live for ten weeks in a specially converted space alongside a dolphin named Peter whom she attempted to teach English.
This is the subject of Breach Theatre's powerful and unusual docudrama Tank in which extracts from the tape recording of the lessons is recreated alongside imagined stories of events that lack a record and the wider context. The piece is at times surreal, funny and provocative.
Bryony Davies is Margaret, shown patiently adopting a teacher-child approach to lessons, praising and rewarding the dolphin for responses.
Joe Boylan is remarkable as Peter, mimicking the sounds and movements of the dolphin and conjuring up its emotional mood.
The theatre company of four comments on what we see and things we don't see, occasionally evoking a mood or an attitude through stories, some of which deliberately resemble Hollywood films.
They suggest Margaret had no obvious qualifications for the work, even recalling that she asked the research worker she first meets at the lab if he "can speak dolphin".
They haggle about her practice of masturbating the dolphin. One of the performers argues it is little different than what a farmer might do with bulls. But others are less convinced and a dream dance implies a romance that is the version that became the focus of tabloid obsessions.
However, the show also reminds us of the way the experiment can resemble an Empire's responce to those they conquer. We are told how Margaret watches as John Lilley injects the dolphin with the mind-altering drug LSD, and we are shown her irritatingly tell the dolphin, "don't even think in your own language. English, all the time!"
They speculate on the dolphins' suffering, even suggesting the back of a female dolphin might be bleeding. In a dreamlike story of horror, they conjure up images of a dolphin murdering Margaret and thousands of dolphins marching up the beach carrying stones to throw.
Suddenly, it feels like the fears of an empire worrying about the response of a conquered people to the cruelties they have had to endure. This takes the play a long way from the follies of science. A final startling image of Peter's fate is a terrifying vision of modern America.
Reviewer: Keith Mckenna