Tap Dogs
Dein Perry
Theatre Royal, Newcastle & Touring
(2007)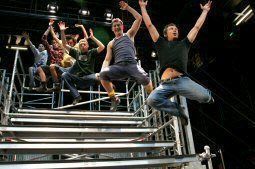 A show that was created in the northern steel town of Newcastle, Australia, has come to our very own Newcastle to entertain. Dein Perry's Tap Dogs has been seen on six continents, in more than twenty countries and in over three hundred cities. Now six men are tapping their way into the Theatre Royal.
Tap Dogs began back in 1994 when Dein Perry returned from treading boards in Sydney in the musical 42nd Street to his hometown Newcastle. Getting together with old tapping mates he wanted to create a brand new tap experience. The show was to incorporate the real life experience of Perry's job in the steel works, giving a fresh spin on tap routines.
Its not hard to see why this show is Australia's biggest theatrical export, grossing in excess or $230 million. It's a worldwide smash hit that will have you mesmerised from start to finish. Tap Dogs is such a hit that in 2000 the story of Perry's creation was made into the film Bootmen, starring musicals actor and hoofer Adam Garcia.
Perry's choreography is just simply amazing. The speed, passion and power in the dances leave you tingling. Another stroke of genius is Perry's use of the set, which is like an industrial children's jungle gym. He has the routines and dancers making full use and fun of the surroundings!
The six male dancers bringing this spectacle to life are just mind blowing, each with individual style and character. Their feet and bodies are like machines at times, leaving the audience with their jaws on the floor. Not content with just giving us the best tap routines possible this cast had the entire theatre in fits of laughter throughout too.
Tap Dogs is not just one of the best dance shows on the planet but just one of the best shows full stop! If you love tap dancing go and see it now, if you don't love tap dancing well so what, just go and see it now! These Dogs are simply phenomenal!
Reviewer: Wayne Miller