Tap Dogs
Dein Perry
Novello Theatre
(2010)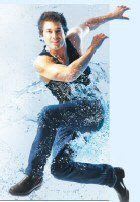 Tap dancing conjures up images of the Broadway musicals of the 1920s and Hollywood musicals of the 1930s with the elegant top hat and tails sophistication of Fred Astaire, Ginger Rogers, Gene Kelly and Donald O'Connor.
In 1995 Dein Perry in Australia reinvented tap with hobnail boots and wellington boots. Fifteen years on the adrenalin shows no signs of letting up. There are Tap Dog companies performing all over the world.
Dressed in jeans and shorts, the all-male cast, now headed by Adam Garcia, resemble workers on a building site. Backed by drum and percussion, and occasionally using blow-torches and basketballs, they tap, stamp, stomp and pound various amplified wooden, steel and wet surfaces with a macho, sweaty, noisy, ballsy precision for 80 non-stop minutes. The creation of the sound of a train is one of many high spots.
Tap Dogs is great fun. The voltage is high. The energy is phenomenal. Indeed, the sextet creates such a splash (literally) that those sitting in the front three rows are provided with plastic mackintoshes.
Reviewer: Robert Tanitch