Tartuffe
Molière, translated by Chris Campbell
Birmingham Repertory Theatre Company
Birmingham REP
–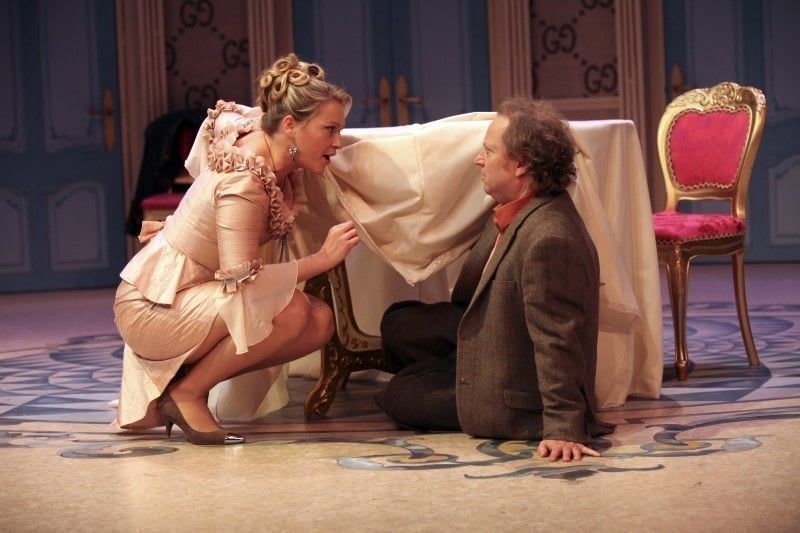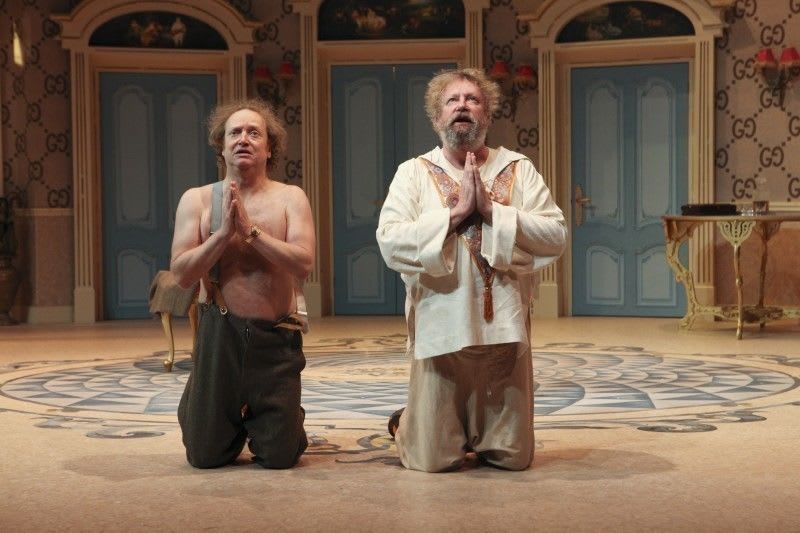 Molière might be turning in his grave if he knew that his seminal comedy Tartuffe had been brought up to date and performed with Birmingham accents. He might think it even more scandalous than the reaction the play received when it was unveiled to an unsuspecting French audience 350 years ago.
But, for the most part, Tartuffe works brilliantly with a modern slant. Hypocrisy and family feuds are just as prevalent now as when the masterpiece was written; the Brummie voices are nothing less than what you might expect to hear in the REP's main house.
Chris Campbell, who has translated plays by French authors for the National, Almeida and the Young Vic among others, has stayed as true as possible to the original while giving the script a feisty, fresh feel. The cast commit themselves completely to the adaptation, ensuring that the REP has another hit on its hands.
Tartuffe marks a number of firsts for the REP: it's the first time Birmingham-born Mark Williams has appeared on its stage; it's Roxana Silbert's debut play since she took over as artistic director; and Dinita Gohil from Hodge Hill in the city is making her professional stage debut. All of them can be delighted with this production.
The plot centres on the seemingly perfect Tartuffe wheedling his way into the life and home of wealthy Orgon. Tartuffe's apparently sinless life and religious zeal make him the perfect man to marry Orgon's daughter. But most of the rest of the family don't have similar sentiments towards the man they believe to be a hypocrite.
Molière carefully builds up a picture of Tartuffe before we see him. It's 40 minutes before he appears on stage; Mark Williams's arrival is well worth waiting for.
Williams, known for the most part as a regular on BBC TV's The Fast Show, is sufficiently pious and deviously cunning as Tartuffe. Yet he is still able to keep the audience on his side; his incorrigibility becomes a likeable facet rather than a flaw.
Roxana Silbert comes up with a spirited, fast-moving production that's full of comedy and verging on farce at the expense of pathos and satire which are in short supply.
She has assembled a terrific cast including the diminutive Paul Hunter as Orgon who throws himself into the physical comedy with a gait almost from the Ministry of Silly Walks. Dressed like a character from The Wind in the Willows, he is a joy to watch and dispels any reservations you might have about the character's extreme views.
Janice Connolly also shines as Mrs Pernelle, the only one to back her son Orgon over his support for Tartuffe. With hair looking like a bird's nest, she comes over like the Dowager in Downton Abbey with attitude. Living in a bygone age, she feels even the morals of her dog have been affected by her outrageous family's contempt for Tartuffe.
There's excellent support from Sian Brooke as Elmire who struggles to get her husband Orgon to see what's really happening to their household; Ayesha Antoine as insolent servant Dorine who wants to expose the truth; Calum Finlay (Valere) and Dinita Gohil (Orgon's daughter Mariane) whose wedding plans seem to be thwarted by Tartuffe's arrival; Martin Hyder as Orgon's level-headed brother-in-law Cleante; Ashley Kumar as Orgon's headstrong son Damis; and Roderick Smith, the officer from Wolverhampton responsible for the dénouement.
Occasionally the humour gets slightly silly and the ending—different from Molière's—appears not to tie up all the loose ends.
If you're conversant with Molière's work, you may not appreciate this version of Tartuffe which doesn't have the seriousness nor solemnity of the original. But as a modern, laugh-out-loud comedy it works. And that's no hypocrisy.
Reviewer: Steve Orme